Baltimore Proves That Indicting America's Rogue Police Officers Is Just Half the Battle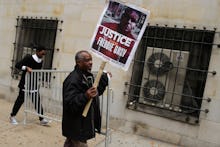 Maryland State's Attorney Marilyn Mosby stood before a crush of news television cameras May 1 and told the world "no one is above the law." With that, Mosby described her office's decision to indict six Baltimore police officers in the death of Freddie Gray, the 25-year-old black man whose death weeks earlier while in police custody sparked days of civil unrest in the city. As a jury decides the fate of William Porter, the first of those officers to go to trial, it's become clear that indicting police officers for conduct on duty is half the battle. Convictions are rare, deadlocked juries seem common and the reasons are many.
On Wednesday afternoon, Judge Barry G. Williams declared a mistrial in the case Porter's trial. Jurors were reportedly hung on all charges.
"[This trial] will set the tone," Adam Jackson, the CEO of Leaders of a Beautiful Struggle, a Baltimore-based activist group, told Mic. "People will probably demonstrate either way, and [they] should be allowed to do that."
The officers' indictments were key for a city whose black residents had long been at odds with its police department. A Baltimore Sun investigation published before Gray's death showed the city had paid roughly $5.7 million between 2011 and 2014 to settle cases in which officers physically assaulted alleged suspects. "Officers have battered dozens of residents who suffered broken bones — jaws, noses, arms, legs, ankles — head trauma, organ failure and even death, coming during questionable arrests," the Sun reported. "Some residents were beaten while handcuffed; others were thrown to the pavement."
Gray, whose spine was partially severed in a police van, died days after his arrest at a local hospital. In September, the city approved a $6.4 million settlement with Gray's family.
But settlements and indictments are not convictions. In recent years, as conversations about police accountability have permeated communities and the courts, a handful of officers have faced criminal charges for deaths that have happened on their watch. In 2010, former Bay Area Rapid Transit police Officer Johannes Mehserle was charged with the videotaped shooting New Year's Day 2009 shooting of Oscar Grant. Video of that shooting went viral, sparking weeks of protests in Oakland, and Mehserle was later convicted of involuntary manslaughter and spent 11 months in prison. Last spring, former South Carolina police Officer Michael Slager was charged with the murder of Walter Scott, an unarmed black man who he was filmed shooting after a traffic stop. In November, Chicago police Officer Jason Van Dyke was indicted in the murder of 17-year-old Laquan McDonald, who was shot 16 times. 
Indictments and, increasingly, convictions, are rare. In August, North Carolina police Officer Randall "Wes" Kerrick was tried for the shooting death of Jonathan Ferrell, another unarmed black man. The jury in that case deadlocked, and the judge declared a mistrial. Data on officer-involved shootings is notoriously sparse, but an investigation by the Washington Post last spring found that there had already been nearly 400 fatal police shootings. 
Angel Harris, a staff attorney for the NAACP Legal Defense Fund, notes that it's "just very difficult to convict a police officer" for something they've done on duty. The reasons are varied, according to Harris. Officers are held to different standards than civilians, so when juries assess the intent of their actions, that intent is often seen as part of an officer's sworn duty to protect and serve. 
"If we use this case in particular, one of the charges is involuntary manslaughter," Harris told Mic. "If you're talking about a person who's acting in the course of duty, the standard that's used to determine whether or not someone had malicious intent is a 'reasonable officer's standard."
But a reasonable officer's standard, according to Harris, assumes that every officer follows the rules and is trained properly. Porter's charges stem from his failure to secure Gray in a police transport vehicle, which an autopsy later showed contributed to this death from a "high-energy" injury. As has already been documented in Baltimore, most police vans in the region don't have seat belts, even though a policy was put in place before Gray's death mandating the use of them when transporting suspects. Officers testified on Porter's behalf at trial that they rarely use seat belts when transporting prisoners. "Personally, I've never seen anybody belted in," Officer Michael Wood, who worked with Porter, testified. 
Harris says that no matter the outcome of the Porter trial, the case has "exposed problems with the Baltimore police department and that's still something that can gain momentum going forward."
Dec. 16, 2015, 3:22 p.m. This story has been updated.