Male Underwear Models Shattering Myths About the Male Beauty Standard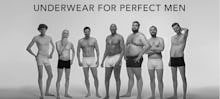 When it comes to body image, the effect of a media-perfect image presented in fashion ads is typically associated with women. And while the industry has responded to a longstanding demand for advertisements to depict real women who don't fit the 6-foot, size 0 model ideal, less attention has been paid to male body perception and male models. 
Enter: The handful of gents who are changing the male modeling culture, nowhere more evident than in the underwear business. 
Men are hardly immune to the effects of society's beauty standards. A 2012 study of 394 British men reminded readers that men suffer from body-related anxiety just as much, if not more, than women do. The Guardian reported that more than 80% of men talk about their bodies in self-deprecating ways, drawing attention to features they see as their flaws, versus 75% of women. Over 30% of men polled reported that the desire for a better body compelled them to exercise compulsively
"These findings tell us that men are concerned about body image, just like women," appearance researcher Phillippa Diedrichs, who conducted the study, told the Guardian. "We knew that 'body talk' affected women and young people and now we know that it affects men too."
Here are our top picks for male underwear models who are shattering stereotypes and setting new standards for what's beautiful.
Aydian Dowling
Dowling, a transgender model, entrepreneur and activist, is probably most famous for recreating Adam Levine's Cosmopolitan U.K. cover — the one in which he's completely naked, save for a woman's well-manicured hands reaching up to shield his genital — for FTM, a trans-focused magazine. Dowling said he saw the shoot as a way to celebrate his body. "Some areas of my body used to remind me of everything I'm not," he said, according to the Huffington Post. "Now they represent everything I am."
Dowling was a finalist in Men's Health's "Ultimate Guy Search," which, according to Out magazine, aimed to "find a man who embodies the ideals of the magazine: someone who is fit and fearless, a doer who gives back and leads by example." Dowling didn't win, but in October, he became the first transgender man to appear on the magazine's cover.
"It would be so affirming to just know that the man that I set out to be is somebody that people think is a good man," Dowling told the Daily Beast in April. "To break those stereotypes, but still be a man. Feel pride in masculinity, but not putting down femininity. That would be so important to me."
Dowling documented his transition in a series of YouTube videos. To pay for a surgery, Dowling founded Point 5cc, "a stealth clothing company designed to highlight transgender commonalities and create a sense of pride." Now, proceeds go to a Transgender Surgery Fund and to an international chest binder exchange program.
Alex Minsky
A U.S. Marine, Minsky was awarded a Purple Heart after losing his leg in a roadside bomb explosion in Afghanistan in 2009. Forced to retire from the Marine Corps, Minsky embarked on a "journey from the battlefield to the runway [that] is straight out of a Hollywood movie," according to his website. During his recovery, a photographer approached the veteran and asked him if he had ever considered modeling. 
"I never thought in a million years that I would become a model," the initially reluctant Minsky says of his career path. "Even before the accident it was never one of my goals."
Now, the heavily tattooed Minsky is an underwear model for Jack Adams. In fall 2014, he walked in New York City's Fashion Week, wearing a UNYQ prosthetic cover. Last year, he sat down with Barbara Walters, Sherri Shepherd (who called him "the David Beckham of modeling") and Jenny McCarthy on The View to discuss how he came back from his extensive injuries, depression and alcoholism to become a viral sensation. He has appeared in GQ, will be traveling to the Zurich Pride Festival in June to speak about gay rights and will perform for a second time in Broadway Bares with James Franco, raising money for AIDS. 
Sawyer Devuyst
Model, actor, visual artist and furniture maker Devuyst is also the model for a new line of underwear for trans men with periods by THINX. The company, which launched two years ago, has one goal: "to eliminate shame, empowering women and girls around the world," Dazed reports. Recently, the company realized that women and girls weren't the only ones experiencing shame and embarrassment surrounding their periods. For transgender men, getting a monthly period is emotionally stressful and difficult to navigate, Devuyst explains in the brand's video.
"There's a lack of trans male visibility and within that visibility, nobody is talking about periods or menstruation because it is a source of shame," Devuyst says. "It strips away masculinity because it's viewed as a very feminine thing."
Devuyst is at work on a collection of self portraits, entitled Mine, "which reclaims transgender storytelling, shares a different trans narrative and adds to transmale visibility by capturing and publishing his daily life in photographs," according to his website. He was one of 17 transgender models to appear in Bruce Weber's 2014 Brothers, Sisters, Sons & Daughters campaign for Barneys New York, the goal of which was to draw attention to the models' stories and to raise money for both National Center for Transgender Equality and the LGBT Community Center in New York City. He was also featured in Candy magazine's Role Models issue. 
Bradley Soileau
While not specifically an underwear model, Soileau has been shot in his shorts frequently enough to include him on this list. Why? Because the man is covered in tattoos, which — combined with the gauges, the shaved head and the multicolor hair — represents a definite break with the male model norm.
Soileau is a model, as well as a "skater/metalhead turned metrosexual punk kid turned emo kid turned hardline straight edge hardcore bro," as he told Vogue. He is also a clothing designer and Lana Del Rey's paramour in her "Born to Die" video.
The "perfect men" of Dressmann 
In September, Norwegian retailer Dressmann launched a campaign entitled "Underwear for Perfect Men," featuring "real men" old and young, with different body types, different heights and different races. The goal, Jens Bonesmo (Dressmann's brand director) said in a behind-the-scenes video, was to challenge the industry standard for male beauty, originally established by Calvin Klein ads.
"Man underwear has always been a brand for everyone, but like many other brands, we have lost ourselves in the fashion industry's ideals," the video voiceover says. "Now we want to find our way back. Back to the majority of people. Back to reality. Back to ourselves."
The ads are reminiscent of Dove's ads featuring "real" women rather than models and were launched with the firm Forsman & Bodenfors. They feature a cover of Billy Joel's "Just the Way You Are" by Swedish artist Maja Francis, CreativityOnline reports. Oh, and they are effective: Following the ads' debut, sales reportedly jumped up 30% from the previous September.