Meet the 20-Year-Old Pastor Who Wore the First Amendment to Baltimore's Protests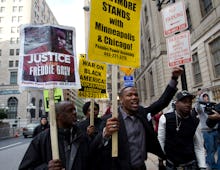 Baltimore — There are plenty of things people typically bring to protests: signs, water, cell phones and an occasional gas mask. But ShaiVaughn Crawley, a 20-year-old Baltimore native, showed up to Wednesday night's protests against the mistrial of an officer accused in the death of Freddie Gray with the First Amendment of the U.S. Constitution stapled to the lapel of his brown blazer.
Crawley tore the First Amendment from an activist pamphlet he'd been given at another protest and stapled it twice to his jacket to ensure it wouldn't fall off. In an interview with Mic, Crawley said the action was "to remind people, specifically media, that we're not really here just to be here," he said of protesters. "We're here because we want to exercise our rights."
He also said "a lot of people out here don't know it's their right" to protest.
The First Amendment to the U.S. Constitution guarantees the right to freedom of speech, but it's been a hot topic of discussion this week in Baltimore. On Monday, public schools chief Gregory Thornton sent a letter to students and families warning them that "student walkouts, vandalism, civil disorder and any form of violence are not acceptable under any circumstances." Students fought back, releasing their own statement reiterating their constitutional rights. "Do not let the threats of Dr. Thornton, the mayor or any other official discourage you from taking action against systems that oppress you," they wrote.
Crawley was also moved by the students' plight. "I felt that was a deprivation of their rights," he said. "Obviously we don't want the kids to riot, but to take away their right to peaceful protest was wrong."
Crawley said he's been a preacher for four years and is currently an intern at the Gallery Church of Baltimore. He began protesting a year ago, when he took to the streets in support of Eric Garner, the 43-year-old black man whose death in police custody was not prosecuted. It was during those protests that Crawley was dismayed at how few preachers had taken to the streets to join the demonstrations. It's then when he made himself, and those within earshot, a promise to show up when he could. 
"I feel like I have a moral and ethical obligation as a Christian, as a preacher," he told Mic. "It's my duty."