This Virginia School District Shut Down After One School Taught Islam as a World Religion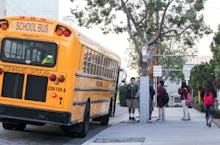 Earlier this week, the Los Angeles school district shut down entirely due to a terrorist threat that turned out to probably be a hoax. Less reported was what happened in Virginia's Augusta County Schools, which shuttered Friday due to a threat of its own. What's so dangerous? Fallout from a lesson about Islam in one of its world history courses.
In a world religion course at Riverheads High School, teacher Cheryl LaPorte assigned students a lesson on Arabic calligraphy, Vice reported. The specific assignment was to copy what's known as the shahada, a statement of Islamic faith. The students weren't asked to translate it or recite, but just to copy it in order to get a sense of the artistry of Islamic calligraphy that dates back to the seventh century. Here's what the assignment looked like:
It may not seem like much, but it was enough to put local parents and school officials on edge. Worried that LaPorte was trying to "indoctrinate" their children, parents organized a protest at a school meeting on Tuesday, according to Vice. The gathering featured local police officers who served as security and checked everyone before entering.
"She gave up the Lord's time," said Kimberly Herndon, the parent of a student at the school who organized the forum, according to News Leader. "She gave it up and gave it to Muhammad."
"This is the perfect opportunity to pray for Ms. LaPorte," said Kim Page, one attendee at the meeting, News Leader reported. "This is an opportunity to pray for all Muslims."
Following the meeting, district leaders increased security at its schools when it began receiving "voluminous phone calls and electronic mail locally and from outside the area," according to a statement on the district's website. "The communications have significantly increased in volume today and based on concerns regarding the tone and content of those communications, [officials] mutually decided schools and school offices will be closed on Friday, Dec. 18, 2015."
The high school is located in the town of Staunton, Virginia, which has roughly 24,000 residents, according to CNN.
The statement also reiterated that the lesson was not trying to change students' religious viewpoints, but something a little less Islamic will be used in the future. "Although students will continue to learn about world religions as required by the state Board of Education and the Commonwealth's Standards of Learning," the statement said, "a different, nonreligious sample of Arabic calligraphy will be used in the future."