Serena Williams Quoting Maya Angelou at 'Sports Illustrated' Awards Is a Win for All Women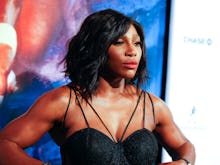 Serena Williams gave an acceptance speech this week for winning Sports Illustrated's Sportsperson of the Year award and, as things with Williams tend to go, it was a pretty bold statement on black feminism.
Throughout the speech, Williams poked fun at the three-decade gap between women winning the award, as well as the controversy her win created when American Pharoah — a racehorse — came in second. But two themes stood out in her speech: that women can compete and win if given the opportunity, and that that road is especially daunting for black women. 
"Ladies: Yes, we can do it," Williams said early on in her speech. "When I first started playing tennis, women weren't really encouraged to play sports, let alone excel in sports. So my hope by winning this award can inspire many, many, many more women — in less than 30 years, of course — to stand right here on this podium and accept another Sportsperson of the Year. So, ladies, it can be done."
Williams then went into her own history, starting in 1984 on what she called the "beaten-down courts" of Compton, California. "I've had people put me down because I didn't look like them — I look stronger," she said. "I've had people look past me because of the color of my skin. I've had people overlook me because I was a woman. I've had critics say I would never win another Grand Slam when I was only at number seven and now here I stand today, with 21 Grand Slam titles. And I'm still going."
Then came the night's most powerful moment, when Williams directly quoted "my favorite poet, Maya Angelou," in "Still I Rise."  
You can watch Williams' speech in full below. The poem starts at the 6:07 mark.