The Winners and Losers of the ABC Democratic Presidential Debate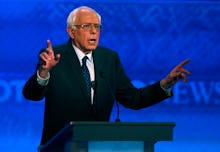 Late on Saturday night in New Hampshire, the three remaining candidates for the Democratic Party's presidential nomination sought to use the last primary debate of the year to share their vision for the future of the United States.
Less than two months before the first votes of the primary elections are cast in Iowa, ABC News' debate featured an uncharacteristically aggressive Sen. Bernie Sanders (I-Vt.), a diplomatic, somewhat distant Hillary Clinton and a shrill former Maryland Gov. Martin O'Malley. The engagement ranged from courteous disagreement on substantive policy matters to sharp protestations against fellow candidates, moderators and the Democratic National Committee.
The showdown, although lighter on confrontation and heavier on content than the most recent Republican presidential primary debates, resulted in a few clear winners — and a few more demonstrative losers.
The winners
Bernie Sanders: Sanders benefitted, in part, from O'Malley's numerous onstage meltdowns, which made the Vermont senator, who can occasionally come off as a bit of a crank, look reasonable by comparison. But his spirited, impassioned performance wasn't just a victory by virtue of juxtaposition. Sanders was sincere, passionate and humorous, undercutting some of the debate's more serious moments by channelling the audience's exasperations with the proceedings. His late-in-the-evening expression of gratitude towards Clinton for her contribution to changing the role of first lady was particularly gallant.
His strongest moment in the two-hour debate may have been his first. The man who is suing the Democratic Party after just becoming a Democrat this year humbly apologized to Clinton for a campaign staffer's snooping in Clinton campaign voter information, a cooling of tensions that redirected the debate towards the substantive track it took for most of the night.
But can winning a low-rated debate on the Saturday night before Christmas amount to more than a feather in Sanders' cap? It's unlikely. Sanders will come out of New Hampshire with a spring in his step, but not a wind at his back.
Hillary Clinton: Clinton lucked out when Sanders took the high road on the dust-up over the DNC, ignoring what could have been a damaging night-long narrative that the Democratic establishment is in the bag for the former first lady. But as the night went on, she built on that good luck with a strong, consistent, policy-driven performance suitable for a career diplomat.
Her foreign policy bona fides — particularly crucial as Americans, in the wake of terrorist attacks in Paris and San Bernardino, California, have named terrorism as their number-one concern — were on full display, with particular focus on the importance of engaging with American Muslims and the global Muslim community in order to combat the Islamic State group and other terrorist entities. In singling out billionaire Republican frontrunner Donald Trump as "ISIS' best recruiter," Clinton demonstrated that, unlike her competition, she's keeping one eye trained on the general election. Seen from her seemingly impregnable place at the top of the polls, it's a smart object to focus on.
The losers
Martin O'Malley: O'Malley came in to the last Democratic debate with rock-bottom poll numbers, minuscule money in the bank and roughly the same name recognition as a late-season American Idol semi-finalist. He landed in New Hampshire with nothing to lose but his dignity — and swiftly lost that.
From his confusing opening statement — "Tonight is different because of this reason" — to his interruption of moderator David Muir on the issue of gun control, O'Malley's unlikely pursuit of the White House is becoming more and more embarrassing for a young former state executive with a once-promising future. Not because he doesn't care, but because he does.
O'Malley's attempt to chide Clinton and Sanders for "bickering" after they agreed to leave the data-breach issue behind them was the kind of overly scripted response that turns voters off from O'Malley. In the Kübler-Ross stages of grief, he's clearly stuck in the second stage: anger.
The moderators: If you're losing to O'Malley, you're officially the biggest loser of the night. Muir and co-host Martha Raddatz came armed with well-thought-out lines of questioning — Raddatz' line of questioning on Libya, directed toward Clinton, was particularly hard-hitting — but both were overwhelmed at times by candidates who seemed to think that the debate format that their campaigns had agreed to was more a guideline than a hard rule.