Here's What the Media Is Missing About Steve Harvey's Miss Universe Gaffe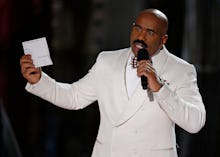 By now, Steve Harvey's epic fail during Sunday night's Miss Universe pageant is the stuff of legend. The longtime comedian and talk show host mistakenly announced Miss Colombia Ariadna Gutierrez Arévalo as the winner. After she had worn the crown and grabbed the celebratory sash and flowers, Harvey acknowledged that he'd made a huge mistake. Arévalo was the first runner-up. Pia Alonzo Wurtzbach, Miss Philippines, was actually Miss Universe.
Harvey apologized again on Twitter:
That didn't stop nearly every major news outlet in the world from covering the gaffe, with the New York Daily News naming it among the worst flubs in recent history. But what the media is missing is that this isn't the first time that Harvey has put his foot in his mouth at the expense of women. In fact, he's made a career out of it.
Over the past 15 years, Harvey has built a $100 million empire out of telling women what to do, what to wear and, in his words, how to "act like a lady." In fact, his bestselling book, Act Like a Lady, Think Like a Man, spawned an a appearance on Oprah and a follow-up film, all centered on the premise that independent women are bound to be lonely unless they invest their time and energy into manipulating men's desires. Harvey says those same women are to blame for infantilizing their sons, who grow up to be emasculated men. The book also includes a bizarre analogy that compares women to fish:
A man fishes for two reasons: He's either sport fishing or fishing to eat, which means he's either going to try to catch the biggest fish he can, take a picture of it, admire it with his buddies and toss it back to sea, or he's going to take that fish on home, scale it, fillet it, toss it in some cornmeal, fry it up, and put it on his plate. This, I think, is a great analogy for how men seek out women.
In 2012, a Harvey critic named Jasmine Suntrell made a "Shit Steve Harvey Says" video that went viral and recounted some of the comedian's most bombastic claims, including his belief that atheists are idiots without a moral compass and men cheat because there are "so many women out there willing to cheat with them."
This past summer, Harvey taped a live show called "What Men Really Think" that gathered 2,000 men into an auditorium to talk candidly about sex and gender. The show quickly devolved into a spectacle, as Sameer Rao recounted at Colorlines:
The show, expectedly, went off the rails quickly. A woman was booed for not having sex with her husband, while various others were admonished or catcalled by the crowd on the basis of their looks. The situation got bad enough that the show's warm-up comedian stepped in to intervene, calling the situation "too rapey." Harvey, for his part, did respond to some vitriolic and sexist remarks by saying that it should be a woman's decision whether or not to have sex, but that hasn't done enough to stem the criticism.
So, sure. Harvey made a mistake during the Miss Universe pageant and admitted to it. But it's the things that he won't ever apologize for that are truly frightening.