America's Biggest Shopping Mall Just Filed a Restraining Order Against Black Lives Matter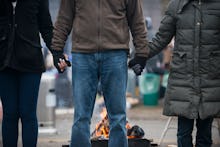 Minnesota emerged in 2015 as one of America's biggest hotbeds for political activism. One year ago, Minneapolis' Mall of America was the site of a massive Christmas Day protest by Black Lives Matter activists. Just last month, hundreds of protesters shut down a major freeway and occupied a local police station for days after police shot and killed Jamar Clark, an unarmed 24-year-old black man. After a targeted shooting threatened some of those protesters, they announced their next stop would be Minneapolis' Mall of America on Dec. 23.
But then, the mall sought a temporary restraining order against them. 
On the group's Facebook page, Black Lives Matter Minneapolis announced their intentions:
Although they destroyed our occupation, they will not destroy our spirits. If we don't get justice for Jamar Clark and Black Minnesotans, we will return to the Mall of America.
But the mall is trying to take that decision out of their hands. Mall officials are seeking a temporary restraining order against eight activist leaders to stop the planned rally. They also want the group to post a message on its Facebook page announcing the rally's cancellation. In a statement released early Monday, Black Lives Matter Minneapolis called the suit "unconstitutional."
The move comes almost exactly a year after about 3,000 activists staged a die-in and practically shut the mall down during one of its busiest shopping days of the year. The action grabbed national headlines and was meant to bring attention to the extrajudicial killing of black people by America's law enforcement. The mall first initiated, and then walked back, an attempt to seek $40,000 in so-called "restitution" from activists. 
During that protest, activists reportedly shouted "we'll be back." But if Mall of America officials have their way, that won't happen.