There's One Big Reason Why Prisoners Are Dying at Alarming Rates in American Jails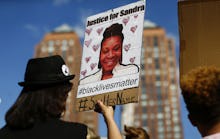 There will be no criminal indictment in the death of Sandra Bland, the 28-year-old black woman who was found hanged in her Texas cell in July. But that death is still at the center of a long-brewing crisis in America's jails: that recently arrested inmates are at higher-than-average risk for suicide.
In July, Bland traveled from Chicago to Texas for a job interview and was arrested after a routine traffic stop went awry. Three days later she was found dead in her cell, a victim of what officials in Texas ruled was a suicide. That official explanation didn't sit well with those who knew Bland well, who told reporters that she had been "strong mentally and spiritually."
But if the official explanation for Bland's death is what happened, it's part of a disturbing trend. Since 2000, suicide has been one of the two leading causes of death in local jails (which usually detain inmates awaiting sentencing or sentenced to less than one year of incarceration); the other is heart disease. In 2013, the last year for which data is available, 34% of inmate deaths were due to suicide, according to the Department of Justice. Between 2012 and 2013, the rate jumped an astonishing 14%.
There are a host of reasons that suicide is more common in jails than prisons. One, which is especially relevant given Bland's circumstances, is what's called the "shock of confinement." As detailed by NPR after Bland's death, jails can be especially cruel places for first-time inmates, who are seven times more likely than other inmates to attempt suicide. The stress of incarceration, particularly for first-timers, is unique: They're without their friends, families and support systems. They also risk losing their jobs, housing and everyday way of life. 
As detailed by Maurice Chammah and Tom Meagher at the Marshall Project, jails also have less information than prisons to work with when assessing an inmate's risk. 
"Prisons know who they're getting," Michele Deitch, a professor at the University of Texas, said at a Texas legislature hearing on Bland's death in the Marshall Project report. Jails, on the other hand, don't.