Just When You Thought Anti-Muslim Bigotry Couldn't Get Worse, This Happened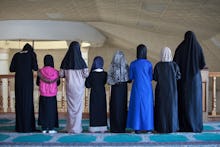 Students at a Muslim school in the United Kingdom are still trying to make sense of a bizarre scene that unfolded late last week: the discovery of two severed pigs' heads — a direct insult to Islamic dietary restrictions — near school grounds on Saturday. Police are now investigating the incident as a hate crime. 
The pigs' heads were found outside of Markazul Uloom Islamic school, which is located in Lancashire, about four hours north of London. "An investigation is underway to identify those responsible and a team of detectives are carrying out numerous inquiries. We have carried out house-to-house inquiries in the area and done a search through CCTV, and we would appeal for anyone who has any information which could assist the investigation to get in touch with us," Chief Inspector Sheena Tattum told reporters, according to Mashable. 
The school's 150 students range in age from 11 to 19. Similar incidents have recently taken place in Philadelphia and Australia. 
Anti-Muslim hate crimes have been on the rise in the United States since 9/11, but have been especially notable in the weeks since the Paris and San Bernardino attacks. In an address earlier this month, President Barack Obama warned against such violence and hate. "We cannot turn against one another by letting this fight be defined as a war between America and Islam" the president said. "That, too, is what groups like ISIL want."
That message, heard around the world, is more important today than ever.