This Is How Iconic Black Feminists Reacted to No Indictments in the Death of Sandra Bland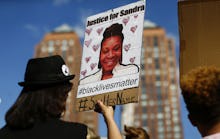 If black women are becoming more visible in the United States, it's because of their collective strides and struggles. 
A Texas grand jury, for example, decided Monday to issue no indictments in the death of Sandra Bland, the 28-year old found dead in a jail cell while in the custody of Waller County authorities in July. 
Bland was stopped by police for failing to signal a lane change and was subsequently arrested after a verbal confrontation ensued with the arresting officer. The incident — captured on a dashcam video — prompted public scrutiny. Another black person had been filmed on the receiving end of excessive force. This time, however, the victim was not a black man like Eric Garner or black boy like Tamir Rice. The victim was a black woman. 
"Let's face it, we all want murderous rage directed at Sandra Bland [and black women in general] and are we surprised that the state is not willing to call it murder? Have they been willing to call any of the killings murder, assassinations?" bell hooks, public intellectual and author, told Mic. "I was always amazed that the white man didn't kill her during their encounter."
Bland is but one example of many black women and girls who have been the targets of various forms of violence, or what hooks has called "killing rage" elsewhere in her writings, this year. And black women advocates have been working to bring their experiences to the fore even as they determine to live and to thrive. 
"There are two elements we have been struggling over with respect to black women: visibility and accountability. This year has been about making visible the ways black women-identified people have been subjected to state violence and other forms of violence — institutional and personal," Kimberlé Williams Crenshaw, co-founder of the African-American Policy Forum and professor of law at UCLA and Columbia Law School, told Mic. "Visibility is the precondition for any form of accountability." 
Some advocates, like Crenshaw, have sought to ensure cisgender and transgender women's accounts of violence were not muted or wholly disregarded in the public sphere as the movement for black lives continued to expand. The #SayHerName social media campaign, initiated by AAPF, for example, was designed to bring broader public attention to the incidents of violence that resulted in the deaths of black women across the United States. This black women-centered advocacy has transpired amid the many triumphant moments of black women's success.
While the collective pain has seemingly made it difficult to appreciate the monumental progress made by black women in certain arenas, much has been accomplished. Nighttime television has been the stage upon which the works of black women directors like Shonda Rhimes has dominated airtime and the black women leads in Rhimes' hits — Kerry Washington as Olivia Pope in Scandal and Viola Davis as Annalise Keating in How to Get Away With Murder — have been lauded. 
Beyond the silver screen, black women like Bree Newsome — known for her audacious climb to remove the Confederate battle flag off a flagpole outside of the state Capitol building in South Carolina in June — have been celebrated as heroes. 
A black woman, Noma Dumezweni, will even find her place as Hermione in the fantastical worlds created in J.K. Rowlings' upcoming stage play, Harry Potter and the Cursed Child. But progress is hard to measure when black women, whether well or less known, are still prone to inordinate forms of violence. 
The names of black women and girls who are now dead like Bland, Rekia Boyd, Aiyana Stanley-Jones, Mya Hall and many others have arguably entered into public consciousness because of social media interventions like #SayHerName. Without the reminder, the broader public may be oblivious to these stories. But is it enough to add names to an ever-expanding list of victims if root causes of violence aren't addressed?
"#SayHerName is the first step. What does it mean that her name has been said?" Crenshaw told Mic. "Progress is basically a way of saying we've gain some traction, but traction is just the footholds needed to take the next steps. We will see more people in our movements say the name of women but will they actually take the step to interrogate how patriarchy and heteronormativity shape their conceptions of anti-racism?"
Black women and girls are impacted often by multiple forms of harm. For instance, on the same day a grand jury decided to not indict anyone in the death of Bland, Steve Harvey — a black comedian and TV personality who has made money and a career by selling books instructing black women on how best to act like men — was a trending topic on social media Sunday after he crowned the wrong winner at the 2015 Miss Universe pageant. 
Shortly after, R. Kelly, the infamous R&B singer whose been accused of raping black girls, trended after he abruptly walked off a Huffington Post interview because he was questioned about his past acts. Both Harvey and Kelly — two men whose works or actions have reeked of the type of male-dominating harm Crenshaw alludes to —seemed to have garnered as much attention as the non-indictment ruling in Bland's case. 
So while black women like Serena Williams, Ava DuVernay and Laverne Cox have broken barriers and graced the covers of magazines, their successes did not come without the shade of racist and/or sexist practices and ridicule. The collusion of progress and struggle is one some black women know too well. 
Echoing this sentiment, Sevonna Brown, organizer and human rights project manager at Black Women's Blueprint, told Mic, "We have on our hands — and moreso on our hearts — a devastating and illustrative picture of not only how America feels about black women but how black women must continue to move through the world: in a state of terror, crisis and anxiety beyond what is worth living." 
This is the reality many black women and girls confront. Whether they are the black girls assaulted by male officers in places like South Carolina and Texas or black women sexually assaulted by black men while working on the frontline of movements for racial and economic justice in the United States, the lives of black women are marked by trial and triumph. So many black women are at the forefront of bringing about social transformation despite their fight to remain safe from racial and sexual antagonism.
"Black girls and women need our support too because there is this idea about black women/girls about how our strength and resilience enables us to overcome anything which, to me, leads to us being more victimized and harmed," Vivian Anderson, Black Lives Matter-NYC organizer, told Mic. 
Progress among black girls and women is hard to gauge when so many of the people working to bring progress about actually happen to be black women and girls. Progress might be best measured when allies respond as vehemently to the struggles impacting black women as black girls and women do themselves. But maybe 2015 presented signs of hope too.
"As I celebrate this week in the face of state violence, how a black woman like myself can still overcome, I'm reminded by the non-indictment of Sandra Bland's killers that for so many of us, that opportunity is taken away," Brittany Ferrell, Ferguson organizer and co-founder of Millennial Activists United, told Mic. "The world doesn't love black women, but I do. And I will continue to lift up the names of Rekia Boyd, Sandra Bland and so many others who are capable of joy."
It seems the public's charge in 2016 is to do the same.