Here's What Happens When Minnesota Refuses to Confront Police Violence Over the Holidays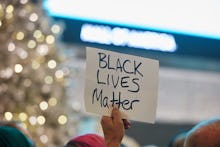 Officials in Minnesota are engaged in a standoff with Black Lives Matter protesters near Minneapolis. 
The protests were scheduled to take place at the Mall of America in Bloomington, Minnesota, over the police killing of Jamar Clark, a 24-year-old black man who witnesses say was shot while handcuffed on the ground. The activists vowed to hold the protest at the mall despite officials there seeking legal action in an effort to stop them. Now, some protesters have reportedly been locked inside the mall by police.
Others have confronted officers at a nearby airport:
The Mall of America protest has become something of an annual event in recent years. In 2014, hundreds of activists staged a "die-in" protest at the Mall of America, the country's largest shopping mall, to bring attention to police killings of black citizens. 
Last year, die-ins also happened near Philadelphia:
And in New York City:
This year's protests in Minnesota have been building for months. Despite the Mall of America's legal action, activists vowed to press on. "A year after our first Mall of America action, we have not seen nearly enough progress in our state," Black Lives Matter's Minneapolis chapter wrote on Facebook. "Last month, Jamar Clark, a young black man, was shot in the head by police while handcuffed, according to witness testimony, prompting an 18-day occupation of the 4th Precinct that was bulldozed by police."
Minnesota isn't the only place where Black Lives Matter has forced holiday shoppers to come to terms with the killing of black people. On Black Friday in 2014, 14 black activists affiliated with Black Lives Matter shut down a central transit point on the Bay Area's transit system in Oakland, California. The group, known as the Black Friday 14, stopped all train activity for several hours before they were arrested and asked to pay restitution. The charges against them were finally dropped this month. 
The underlying theme of all the protests is the same: While millions of people enjoy the holidays with their loved ones, many other black families are left to mourn, with only slim hopes of justice. "There will not be business as usual this Christmas," read the Facebook statement issued for the protest at King of Prussia Mall in suburban Philadelphia last year, according to NBC. "Not as we watch case after case of police brutality against black people in this country go without justice."