The NBA's Biggest Stars Did Something Totally Unexpected This Holiday Season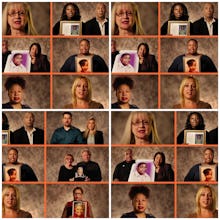 The NBA has enlisted its biggest stars to show that, just like millions of other Americans, they're impacted by gun violence.
In a PSA produced alongside group Everytown for Gun Safety, several of the game's best players share their own experiences with gun violence, which has claimed the lives of more than 12,900 people so far in 2015. 
First up is reigning league MVP Stephen Curry. "I heard about a shooting involving a 3-year-old girl over the summer," he says. "My daughter Riley is that age."
Riley Curry became an internet sensation during last season's NBA playoffs when she accompanied her dad to postgame press conferences. But her parents, just like many others, fear for safety in a country where it's easier to get a gun than a credit card. 
Next up is All-Star guard Chris Paul, who remembers, "My parents used to always say a bullet didn't have a name on it."
And then New York Knicks star Carmelo Anthony says, "The gun should never be an option."
Then there's the Chicago Bulls stalwart Joakim Noah, who reminds viewers, "We can all make a difference."
But the most powerful stories in the 32-second ad come from the ordinary people who offer heart-wrenching stories of lives lost to gun violence. Together, they remind us of a sobering reality that's unique to America: "In the United States, 88 people die of gun violence every day."
The movement to end gun violence in the United States has picked up steam over the past several years as mass shootings have become common and senseless violence has continued unabated. This year alone, there have been 355 mass shootings. After a mass shooting at an Oregon community college claimed 10 lives in October, President Barack Obama urged reporters to "tally up the number of Americans who've been killed through terrorist attacks over the last decade and the number of Americans who have been killed by gun violence, and post those side by side on your news reports." They did, and the results were sobering:
The NBA is paying attention — are you?