Judge Rules Gun Dealers May Have to Pay For Crimes Committed With Weapons They Sell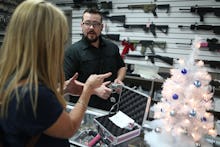 Seattle will be ringing in 2016 with new gun control legislation. 
On Tuesday, King County Superior Court Judge Palmer Robinson ruled that a new tax on guns and ammo would go into effect on Jan. 1, in a case gun rights activists brought against the city. Robinson's decision aligned with City Council's unanimous vote in August, approving a tariff of $25 per gun and 2 or 5 cents per round of ammunition for sellers. 
In the eyes of NRA members — the plaintiffs, alongside the Second Amendment Foundation and the National Shooting Sports Foundation — Robinson's ruling flouted the law. But during the case's hearing, a lawyer defending the city testified that the levy is perfectly kosher. The key is the difference between taxation and regulation, the Seattle Times reported.
Attorney William Abrams stated, "Taxation is to raise revenue, and cities have broad powers to raise revenue through a variety of taxes."
This simple fact doesn't mean the NRA will stand down. "This is not the final word," NRA spokesperson Lars Dalseide said in a statement to the Examiner. "We will keep fighting until all legal avenues are exhausted and the people of Seattle are free to exercise their Second Amendment rights without persecution from their elected officials." 
Alan Gottlieb, founder of the Second Amendment Foundation, claimed the city was upholding discrimination in his decision. "It is unconscionable for Mayor Ed Murray and the City Council to codify what amounts to social bigotry against firearms retailers and their customers, " Gottlieb said. 
Nonetheless, Robinson's ruling cuts through the noise. In their case, the plaintiffs argued that the tax on firearms and ammunition was impermissible, according to Washington State law. In Robinson's official verdict, she calls their reading of the law "too narrow." She writes, "The guns and ammunition may never be used, may be used only at a range, or may be used exclusively for safe and legal purposes. Accordingly, the fee imposed is a tax rather than a regulation." 
Seattle Mayor Ed Murray said he believes this victory will help spur future change. "For too long, we have had insufficient research and data on gun violence to help guide our response. We will now have critical funding to advance our work on gun-violence research and prevention," Murray said.