12 Things You're Really Saying With Your Flaky Texts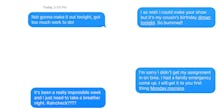 In the era of texting and iMessage, it's never been easier to flake on preexisting social obligations. Quickly type up an excuse (any excuse will do!), ditch whatever work party or coffee meeting you felt obligated to go to, and you and Netflix can spend a relaxing night in together.
We've all sent fake excuses to get out of hanging out with people, and we've all received our fair share of flaky texts. It's time for us to up our texting game, though, because it's pretty apparent when we're lying. These are the 12 most common flaky text messages we get — and what they really mean.
What I said... and what I meant: 
What I said... and what I meant:
3. What I said... and what I meant: 
4. What I said... and what I meant:
5. What I said... and what I meant:
6. What I said... and what I meant:
7. What I said... and what I meant:
8. What I said... and what I meant:
9. What I said... and what I meant:
10. What I said... and what I meant:
11. What I said... and what I meant:
12. What I said... and what I meant: