Black Lives Matter Activists Shut Down Business as Usual in These 6 Cities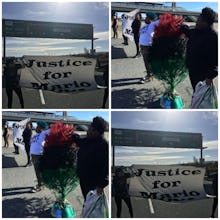 Black Lives Matter activists in six cities started converging Wednesday afternoon on major shopping and transit hubs to bring attention to police killings of black people in the United States. The hashtag associated with the protests, #BlackXmas, is trending nationwide. 
The protests are taking place in Minneapolis malls and airports and a freeway leading to the San Francisco International Airport, along with other protests in Chattanooga, Tennessee; Washington, D.C.; Los Angeles; and Chicago. 
Protests began Wednesday afternoon in Minneapolis, which hosted two tense standoffs between police and protesters. A demonstration at the Mall of America had been planned for more than a week when mall officials sought a temporary restraining order to stop it. The protesters showed up anyway.
At 3 p.m. EST, protests began the five other cities. "We understand that money talks [and] the police force is really here to protect white wealth, not really to protect black bodies," Malkia Cyril, a spokesperson for Black Lives Matter Bay Area, told Mic. "We recognize that in order to make sure people can truly hear this message, we're going to stop business as usual and stop the flow of commerce on a day where a lot of money is going to be spent. We want to make people pay attention to the fact that black humanity is being denied."
Cyril also noted that each city's police force had recently shot a black person. In San Francisco, Mario Woods' videotaped shooting incited demonstrators. Chicago Mayor Rahm Emanuel is facing calls to resign after the 2014 police shooting of Laquan McDonald was made public after a protracted legal battle. 
Here's the scene near San Francisco International Airport:
The scene in Chattanooga:
A press release that was issued as protests began stated that the holidays are particularly difficult time for families who've lost loved ones to police violence. 
"In 2015, more than 300 black families will not have holidays as usual, because they have had a loved one murdered by the police," the statement read. "Black Lives Matter activists say these are not distinct or separate incidents, they are evidence of an epidemic of racial bias within American law enforcement."