One Photo Sums Up What Chicago Residents Want Most This Christmas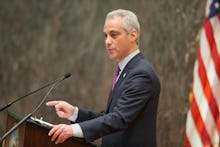 Dozens of Chicago shoppers took to the streets in protest this Christmas Eve to ask for the one thing that's atop their list this year: a new mayor.
Chicago Mayor Rahm Emanuel has been under fire since video emerged weeks ago of the shooting of 17-year-old Laquan McDonald. The shooting occurred more than a year ago, but a lawsuit forced city officials to make it public on Nov. 24. What it showed was deeply disturbing: McDonald, though holding a knife, was walking away from officers when he was shot 16 times by Chicago police officer Jason Van Dyke. Van Dyke has since been charged with first-degree murder. 
Emanuel has since denounced Van Dyke's actions, even going so far as to take responsibility for the incident. "I am the mayor," Emanuel told reporters at a press conference in early December. "As I said the other day, I own it. I take responsibility for what happened because it happened on my watch. ... If we are going to fix it, I want you to understand it's my responsibility."
But for many residents, those apologies aren't enough. Activists in the city have been calling for the mayor's resignation, and even Democratic presidential candidate Bernie Sanders has publicly criticized the handling of the case. After the McDonald shooting was made public, the Justice Department announced that it was opening a civil rights investigation into Chicago's long and ugly history of police brutality. 
Despite the criticism, the mayor said he's not stepping down. "We have a process called the election," Emanuel told Politico earlier this month. "The voters spoke. I'll be held accountable for the decisions and actions that I make."