Peyton Manning Used Human Growth Hormone in 2011, Alleges Al Jazeera Expose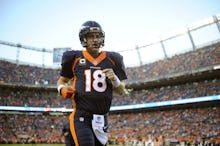 Peyton Manning, Denver Broncos' star quarterback, five-time NFL MVP and Super Bowl XLI champion, uses or used performance-enhancing drugs, according to an Al Jazeera documentary.
In the 49-minute investigation, titled The Dark Side: Secrets of the Sports Dopers, Charlie Sly, an employee of the Guyer Institute in Indianapolis, says the clinic provided Manning's wife, Ashley Manning, with prescriptions for human growth hormone on a regular basis in 2011, around the time Peyton Manning was recovering from a devastating neck surgery gone wrong.
The allegations: "Him and his wife would come in after hours and get IVs and shit," Sly says during the video. "So one thing that (Dale) Guyer does is he dispenses drugs out of his office, which physicians can do in the United States. It's just not very many of them do it.
"And all the time we would be sending Ashley Manning drugs. Like growth hormone, all the time, everywhere, Florida. And it would never be under Peyton's name. it would always be under her name. We were sending it everywhere ... it'd go to Florida."
"Almost all drugs you can prescribe off-label," Sly concludes. "GH is one of the few drugs, it's really the only drug you cannot prescribe off-label. It has three indications."
Doctors prescribe growth hormone to adults for just three reasons, according to Al Jazeera: growth hormone deficiency, short bowel syndrome and HIV wasting. None of those conditions would be treated at an anti-aging clinic.
However, off-label uses for growth hormone other than performance enhancement include anti-aging and beauty treatments.
According to Yahoo Sports, the NFL banned growth hormone in 2011, but Manning would not have been tested until 2014. 
Manning isn't having it: In a statement issued to USA Today through the Broncos, Manning fought back hard.
"The allegation that I would do something like that is complete garbage and is totally made up," Manning said. "It never happened. Never. I really can't believe somebody would put something like this on the air. Whoever said this is making stuff up."
Manning says he visited the Guyer Institute to use its hyperbaric chamber and receive a nutrient IV drip, nothing more, and that his wife's medical privacy is being violated. His agent told Al Jazeera any drugs prescribed to Ashley Manning were taken solely by her.
Guyer issued his own statement, saying Sly was an "unpaid intern" at the clinic and "fabricated this whole thing for reasons I cannot fathom."
The Broncos issued a statement saying they "support Manning 100%."
In the video, Sly himself retracts the statements, which were filmed secretly.
One thing is for sure: Manning, still a star at the age of 39, has lasted well beyond the typical lifespan of an NFL quarterback, especially given his potentially career-ending 2011 injury. Few make it to 37, let alone beyond, and a player's performance usually begins to degrade in their 30s.
An ESPN profile earlier this year detailed the strain Manning's body is under after decades of football.
"A Broncos equipment staffer helps peel [cleats] off his feet while he does a radio interview, because after nearly 25 years of football dating back to high school, it's a relief to not have to bend over that far," ESPN's Kevin Van Valkenburg wrote. "... Manning's pale arms and torso are covered in fresh scrapes and old bruises, some the color of strawberries, others a shade of eggplant."
Of course, Manning's remarkable persistence in the face of inevitable biological entropy isn't necessarily evidence of performance-enhancing drug use. An entirely reasonable alternate explanation is just that he's one of the most stubborn players in the NFL.
Either way, Manning is gearing up to bury the story. Yahoo Sports reports he's already hired PR expert Ari Fleischer, former White House press secretary under President George W. Bush, for crisis management services.