One Heartbreaking Photo Reveals the Racist Hypocrisy Behind Tamir Rice's Death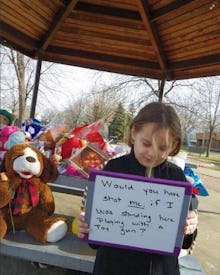 A photograph has been circulating on Twitter showing a child many purport to be a former classmate of Tamir Rice, the 12-year-old Cleveland boy shot and killed by police in November 2014.
The image shows the child standing in front of the Cudell Recreation Center gazebo where Rice was shot, holding a sign that reads, "Would you have shot me if I was standing here playing with a toy gun?"
The child in the photograph is white. Tamir Rice is black. Mic was unable to independently verify the veracity of the image — which was first posted to social media in December 2014 — but the racial double standard it hints at marks a disturbing trend in the deaths of black youth, like Rice.
On Monday, after a 13-month investigation and two-month grand jury deliberation, Cuyahoga County prosecutor Tim McGinty announced no charges would be filed against Timothy Loehmann, the Cleveland police officer who shot the 12-year-old boy, or Frank Garmback, the officer who was with him.
Rice was in possession of a toy gun at the time. His death was captured on surveillance video, and fueled nationwide protests against anti-black police violence, which continue to this day.
"[More] than a year after Cleveland police shot and killed 12-year-old Tamir Rice, a grand jury voted not to indict the shooter," the Rice family's attorneys said in a statement after Monday's announcement. "Tamir's family is saddened and disappointed by this outcome — but not surprised."
Many observers have criticized the conduct of McGinty's office throughout the process. In October, the prosecutor made public a pair of expert analyses he commissioned from a Colorado prosecutor and a former FBI supervisory special agent claiming Loehmann acted reasonably in killing Rice. On Monday, assistant Cuyahoga County prosecutor Matthew Meyer explained Loehmann's hair-trigger reaction to Rice by saying the 12-year-old looked "big for his age."
Meyer's justification is sadly not uncommon. In February 2014, several months before Rice's death, a University of California, Los Angeles-led study published in the Journal of Personality and Social Psychology found black children are often seen as much older than they are by police, with some subjects overestimating their age by 4 1/2 years.
"Children in most societies are considered to be in a distinct group with characteristics such as innocence and the need for protection," study author Phillip Atiba Goff told the American Psychological Association. "Our research found that black boys can be seen as responsible for their actions at an age when white boys still benefit from the assumption that children are essentially innocent."
Police who fail to see black youth as children are more likely to dehumanize them as well, according to the study. In this context, the above photograph speaks volumes.