Tamir Rice's Family Has One More Distant Chance at Justice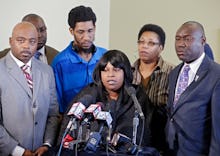 While a Cleveland grand jury has declined to bring charges against two police officers at the center of his death, the fight for accountability in the death of Tamir Rice is far from over. His family is hoping that the federal government will investigate the case and bring charges of its own. But that hope, held by many people in similar circumstances in recent years, is dim.
In a statement issued to the media on Monday night, Rice's family was clear in their hope that the Department of Justice would step in to determine if Rice's civil rights were violated. "I pray and hope that the federal government will investigate this case," his mother, Samaria Rice, said. 
For its part, the Department of Justice said it will keep a watchful eye on the case. "We will continue our independent review of this matter, assess all available materials and determine what actions are appropriate, given the strict burdens and requirements imposed by applicable federal civil rights laws," the department said in a press release issued on Monday. 
Rice's family isn't the first to hope that a federal investigation into a fatal officer-involved shooting will bring accountability that a local probe did not. In fact, it's a strategy that's been used in a number of high-profile police shootings, without much success. Federal officials investigated Trayvon Martin's 2012 death at the hands of George Zimmerman after he was acquitted at trial; that investigation found "insufficient evidence to pursue federal criminal civil rights charges" against the Florida man. Shortly after Baltimore erupted in outrage after Freddie Gray's death, the Department of Justice announced a federal probe of the entire department. The DOJ is also still investigating Eric Garner's 2014 death on Staten Island after a New York grand jury declined to indict Daniel Pantaleo, the officer seen on video placing Garner in a chokehold. But hope for an indictment is far-fetched, say observers.
"It's incredibly difficult for the government to prove civil rights violations in police shootings because you have to prove that an officer intended to kill someone," Angel Harris, an assistant counsel for the NAACP Legal Defense Fund, told Mic.
But while individual cases may be difficult, systemic change is much more likely. "Communities look to the Justice Department to do their own independent investigations because they're looking for validation that there are structural issues with their local police departments," Harris said.
While the Justice Department declined to indict former police officer Darren Wilson in the death of Michael Brown in Missouri, it did release a scathing investigation of Ferguson's police department. That report has made the city pay lip service to instituting serious systemic reforms. Similarly, the DOJ has already had its eye on Ohio. Earlier this year, Cleveland entered into a consent decree with the Justice Department that will heavily scrutinize the department. 
Following Monday's announcement about the Rice case, the federal monitoring team that's overseeing Cleveland's police force said that it plans to move forward with its efforts to "fundamentally transform" policing in the city. 
"What the Decree does, however, is to provide a specific process, overseen by a federal court, for ensuring that the Cleveland Division of Police is fundamentally transformed in the future – by establishing ongoing, systemic accountability mechanisms that will aim to change how the police function and how the police and community interact. This change will not happen overnight. We will ensure that the community in all its forms and CPD have the conversations that are necessary to establish a new, shared vision of policing in Cleveland as the Consent Decree moves forward."
"I think, absolutely, it's very necessary to have an outside look at the Cleveland police department," Mike Brickner, senior policy director at ACLU of Ohio, told Mic. "That's been something that's been needed here in Cleveland for years, if not decades, because we've had continuing problems with the police department for so very long." 
Brickner described instances in which people of color are "subjected to violence, profiling and other unconstitutional practices." In 2012, officers fired 137 shots into a car driven by Timothy Russell and passenger Malissa Williams. Both were unarmed and died in the hail of gunfire. The city issued a $3 million payout to both families just days before Rice's death in 2014, and the case sparked the federal consent decree that residents now hope will address the department's failures. 
Brickner hopes that Rice's case will introduce new language into the consent decree that specifically mandates policies and practices for how the police interact with young people.
For those waiting on justice for Rice, that process of systemic accountability has proved to be agonizingly slow.