Erykah Badu Donated Shelter to Tornado Victims in Dallas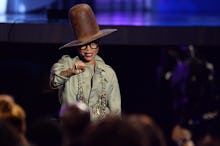 Tornadoes roared through Dallas this week, damaging hundreds of buildings and killing 11 people. But at least one Dallas resident helped others in need: grammy-winning hometown hero Erykah Badu.
On Monday night, Badu tweeted that she'd found hotel rooms in nearby Garland, Texas, and was donating them to people in need. 
Then on Tuesday night she reached out again:
The singer received dozens of responses on Twitter, but it's unclear how many people were actually housed in the Garland hotel rooms. But she seemed to follow-through:
Still, it's an extraordinary act of generosity on Badu's part and just one of the ways that she's kept busy recently. While she hasn't released a formal album since 2010's New Amerykah Part Two (Return of the Ankh), she did release a mixtape in November featuring the hit Drake cover of "Hotline Bling." In October, Badu debuted her own one-woman show in Dallas, where she lives with her three children. 
Even with that notoriety, Badu has remained active in the community that raised her. In recent years, she also ran a community center that doubled as an after-hours hangout in the city.