Bill Cosby's Sexual Assault Charge Is a Challenge for Us, Not Just Him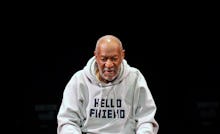 The seemingly impossible has now happened: Bill Cosby, the disgraced comedian and black American patriarch, has been formally charged with sexual assault. 
In fact, Cosby is charged with aggravated indecent assault stemming from a 2004 incident at his home in Cheltenham Township near Philadelphia. Cosby, of course, has been at the center of dozens of sexual assault allegations by scores of women who say they were drugged and raped by the comedian. Until Wednesday, Cosby had not faced one criminal charge, and this announcement came just days before the 12-year statute of limitations ran out.
The road ahead is uncertain, but the road to this point has already been treacherous for the women who allege they've been victimized by Cosby. Though there'd been whispers about Cosby's alleged actions for years, public opinion didn't turn against him until fellow comedian Hannibal Buress' 2014 joke ignited a media frenzy. What followed was perhaps the most stunning and swift fall from grace by a one-time American icon. More than 50 women came forward to say they had been assaulted by Cosby since the 1960s and damning depositions were made public in which the comedian admitted to drugging women. President Barack Obama even weighed in: "If you give a woman — or a man for that matter — a drug and have sex with that person, that's rape," he said during a July press conference. "And I think this country, any civilized country, should have no tolerance for rape."
The Cosby case has touched on some of America's deepest held convictions about sexual assault and celebrity, but perhaps none more important than this: Rape is always about power and hardly ever about sex. 
When Cosby admitted to "seducing" a young model by feigning interest in her father's cancer, that was about power. When Cosby admitted to using his wealth and offered career advice to young women in order to "[push] them for sex acts," that was about power. When a female attorney accused Cosby of "making light of a very serious situation" and he responded, "that may very well be," that was about power. And, as vividly described by the accusers who were featured in New York magazine in July, these are the faces of just some of those women who are now exercising power of their own:
That a leading entertainer could thrive among so many suspicions for so long is not a surprise. It happens, over and over again, because we let it. That it took another man to finally draw attention to Cosby's alleged wrongs is also not a surprise. That happens, too, because we let it. But Cosby's charges are important because it's the first step in moving accountability for Cosby's alleged crimes out of the court of public opinion and into a court of law.