What Bill Cosby's Fall Means for Black People in America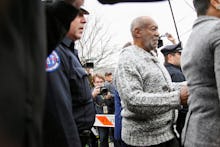 Just two days before the new year, America got what is arguably its most important image of 2015: Bill Cosby's mugshot.
The image, taken just after Cosby was arraigned Wednesday near Philadelphia for aggravated indecent assault for a 2004 encounter with Andrea Constand, is now seared into the American public's consciousness. There is Cosby, the 78-year-old, once-beloved comedian, unshaven, with a noticeable eye condition and, despite his strongest protestations, the epitome of a creepy old man. 
While Cosby's criminal fight is just beginning, he's already been tried and found guilty in the court of public opinion. More than 50 women have come forward with stunningly similar stories of being drugged and raped by the comedian over the course of five decades. Many of their names and faces have been made public, plastered on national magazines and held up as symbols of our society's willful disregard for male predation. Cosby's own 2005 deposition in a civil suit brought by Constand has further cemented his guilt in the eyes of many observers; he admitted to obtaining powerful sedatives to give to women.
It's a stunning fall from grace that's been decades in the making, but it's felt most strongly in the black communities he was charged with representing to white America.
For black people in America, this story has been especially painful to watch. We are granted few heroes, and those who willingly and unwillingly take up that mantle are saddled with the unenviable task of being perfect. No one did this as eagerly, or as long, as Cosby. 
For several decades, he made it OK to laugh about race. And while the idea of the black family was under siege in the 1980s, with purposely misleading stories of welfare queens and crack babies, Cosby offered up a sanitized version of black family life that the whole country — not just black people — fell in love with. For eight seasons, The Cosby Show reigned supreme in American sitcom television, earning its namesake the unofficial title of "America's Dad." 
Cosby himself proudly wore that title into the 2000s, when he began pedaling a dangerous brand of black conservatism aimed at making young men "pull up their pants" and look respectable to white folks.
His 2004 speech to the NAACP on the anniversary of the historic Brown v. Board of Education Supreme Court decision lives on in infamy. In one memorable passage of what is now known as "The Pound Cake Speech," Cosby took on black parenting: 
People getting shot in the back of the head over a piece of pound cake! And then we all run out and are outraged, 'The cops shouldn't have shot him.' What the hell was he doing with the pound cake in his hand? I wanted a piece of pound cake just as bad as anybody else, and I looked at it and I had no money. And something called parenting said, 'If you get caught with it, you're going to embarrass your mother.' Not, 'You're going to get your butt kicked.' No. 'You're going to embarrass your family.'
Ironically, it's that speech that sped up his downfall. Earlier this year, a U.S. district court judge used it as legal justification for unsealing a deposition in the Constand civil case that was unalterably damaging to Cosby. 
But it's the fact that Cosby was anointed a public moralist at all that is a real problem.
Few other communities are so maligned that one man is anointed the best among them and properly suited to help them earn respect. For decades, Cosby was that man. Black American communities were largely grateful and proud because he had earned power and fame, because he gave generously to black institutions and because he became a black institution unto himself. That such an institution was enabled in part by the alleged manipulative predation of women, that it was maintained on personal and public deceit, is one of our most painful tragedies.