'Downton Abbey' Season 6 Episode 1 Recap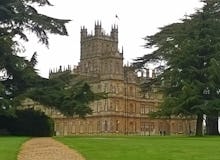 Uncredited/AP
The end of the Grantham era is upon the U.S.: The first episode in Downton Abbey's sixth series premiered Sunday night on PBS. While viewers may be mourning the demise of the Masterpiece series, there's plenty to look forward to already, as its first installment made clear. Originally intended to close with the fifth season, show creator Julian Fellowes ended up needing more time to round out the characters' stories. 
"We needed a whole series that was about resolution so we decided to do six, so it's not as if we're cutting ourselves short," Fellowes told CNN. "It's good to leave the party when the people are still sorry that you'll go and not wait until everyone's incredibly relieved."
This season, viewers can count on closure for Lord Grantham and the gang, plus plenty of the drama fans have come to expect. Here's a full recap of episode one — warning: spoilers ahead.
The series opens during a time of change for families like the Granthams, which are increasingly opting to downsize in keeping with the modern times. A full staff of servants is becoming a rare thing within 1920s society, with the elite moving off their mammoth estates and into more reasonably sized, affordable homes. Visiting an area estate auction, a one-time social peer warns the Crawleys, "This life is over for us. It won't come back ... I'm afraid we held on for far too long, and now there's nothing left. Learn from us!" In this final season, everyone will have to reconsider their place in an increasingly outmoded social hierarchy.
Blackmail: Fans will recall Lady Mary's (played by Michelle Dockery) extended hotel stay with marriage candidate Lord Tony Gillingham, a tryst she engineered to determine whether or not she and (sort-of-boring) Gillingham would prove compatible in the bedroom. She found the affair forgettable, but newly introduced pot-stirrer Rita Bevan did not. As a maid at the Liverpool hotel where the fling was flung, Bevan clocked Mary's face; in episode one, she shows up at Downton and proceeds to blackmail the Lady. 
"Your lot's finished," Bevan tells her, threatening to ruin Mary's not-necessarily-good name if the Granthams don't pay. "You're going down and we're coming up." Mary will not be cowed and opts for honesty, telling her father what she and Gillingham did. The Earl of Grantham (played by Hugh Bonneville), in turn, offers Bevan a paltry sum and a threat of his own: If she shows up again, he'll have her arrested. Good day, Rita Bevan.
Romance: Butler Mr. Carson (Jim Carter) and Mrs. Hughes (Phyllis Logan) are due to become man and wife. What does that mean? A wedding night, the prospect of which has Mrs. Hughes feeling somewhat squeamish. "I hadn't fully considered all the...aspects of marriage," Mrs. Hughes confides in Mrs. Patmore (Lesley Nicol), explaining why she's reticent to set a date for the nuptials — it's been a long time since sex has been an option for her. Mrs. Hughes dispatches Mrs. Patmore to have the talk with Mr. Carson to determine whether or not he'd anticipated a physical relationship as part of the marriage contract. He had, and is hurt to learn that his intended hadn't, but not to worry: Mrs. Hughes comes around. 
Crime and punishment: As viewers may remember, season five wrapped with Anna (Joanne Froggatt) accused of having murdered the rapist and valet, Mr. Green, a crime for which her husband, Mr. Bates (Brendan Coyle), had previously served time. After a few visits from local law enforcement, Anna's name is cleared when another woman confesses to having killed Green. But because the course of love has never run smooth for lovebirds Anna and Bates, the couple immediately encounters another problem: possible infertility. Anna has just had a miscarriage, which we learn isn't her first. But as Bates points out, "We've had so many troubles. There isn't a couple in the world who've had as many worries as we have." He's not wrong — might a heartwarming resolution be on the way for the down-on-their-luck couple?
Catch up on the latest Downton Abbey episode here. Episode two will premiere Sunday at 9 p.m. Eastern on PBS.