Amber Rose Had an Epic Clapback to a Tweet About Going Topless to Coachella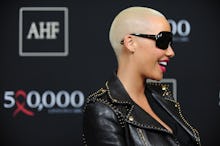 When news surfaced on Monday that Guns N' Roses would headline this year's Coachella music festival, at least one high-profile fan was really excited. Amber Rose, the outspoken model, took to Twitter to talk about how pumped she was:
At least one person responded with a major dose of slut-shaming, asking, "What would your son say?" referring to Rose's 2-year-old boy, Sebastian. Rose responded:
Rose's pointed critiques of sexism have taught the world plenty about how women can embrace their sexualities. In October, she headlined the controversial Amber Rose SlutWalk in Los Angeles, in which she protested the narrative that women who dress like so-called "sluts" make it easier for themselves to be sexually assaulted. 
Even before that, she showed up the MTV Video Music Awards wearing a body suit painted with all of the sexist trolling she receives every day online. 
In an interview with the Guardian last year, Rose opened up about the long road she's traveled to embrace her body. "I used to call women sluts and whores all the time. Because that's what society taught me: that that was OK and that it was what I was supposed to be doing," she told writer Rose Hackman. "But I grew up, and I have seen these issues, and I have become very passionate about it. I am a former slut-shamer and a newfound feminist."