No, White Armed Ranchers, You're Not Treated Worse Than Black Lives Matter Activists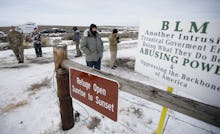 It's been days since a group of armed ranchers stormed onto a federal wildlife refuge in Oregon and refused to leave. Now, the group's got a bone to pick with what they think is the media's negative portrayal of them. 
"The Black Lives Matter movement, they can go and protest, close freeways down and all that stuff, and they don't get any backlash, not on the level that we're getting," one man told reporters on Monday, according to the Huffington Post. But even before the man's comment, observers noted that they are absolutely not being treated the same as black protesters:
One CNN commentator, Art Roderick, racialized the moment even further. "What are they actually doing? They're not destroying property; they're not looting or anything," he said on-air.
To be sure, Black Lives Matter activists have used an assortment of tactics to bring attention to their cause. During the holidays, the network staged a series of freeway and airport shutdowns to disrupt business as usual and highlight the black families that did not celebrate Christmas with their slain loved ones. Those tactics, and many others, continue to be hotly debated.
But by and large, Oregon's armed ranchers have been deemed a nuisance, not a threat.