5 of the Boldest Claims Made by North Korea's State Media, KCNA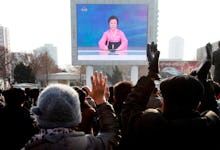 Kim Kwang Hyon/AP
North Korean state media said Wednesday it had successfully tested its first hydrogen bomb. The detonation happened at 10 a.m. local time, or 8:30 p.m. Eastern on Tuesday, according to a televised statement that was broadcast by the Korean Central News Agency, multiple outlets reported.
According to a translation from the Wall Street Journal, the broadcast trumpeted, "There took place a world-startling event to be specially recorded in the national history spanning 5,000 years in the exciting period when all service personnel and people of the Democratic People's Republic of Korea are making a giant strides, performing eye-catching miracles and exploits day by day after turning out as one in the all-out charge to bring earlier the final victory of the revolutionary cause of Juche, true to the militant appeal of the Workers' Party of Korea.
"Through the test conducted with indigenous wisdom, technology and efforts, the DPRK fully proved that the technological specifications of the newly developed H-bomb for the purpose of the test were accurate and scientifically verified the power of smaller H-bomb."
Read more:
According to a Facebook page, the news agency was founded Dec. 5, 1946, and is "the state-run agency of the Democratic People's Republic of Korea. It speaks for the Workers' Party of Korea and the DPRK government." KCNA's webpage was unavailable Wednesday afternoon. On the heels of the its most recent claim, here's just some of what the country's press has reported in past years.
1. The KCNA has reported that North Korea's former leader, Kim Jong Il, was beloved worldwide, and that North Korea is "the envy of the world," according to the Richest. North Koreans are also told that Kim is a style icon and that he invented the hamburger.
2. The KNCA reported that North Korea won the 2010 FIFA World Cup. Spain won that year.
3. The KCNA reported that North Korea's current leader, Kim Jong Un, who began his rule in 2011, has invented a drug capable of curing AIDS, Ebola, SARS and MERS, according to the Mirror.
4. According to the BBC, KCNA has claimed that Kim Jong Il scored 11 holes-in-one on his first attempt at golf, which is more than any other pro golfer in the world.
5. In 2012, Time reported that the KCNA was claiming unicorns are real. 
According to the Associated Press, the White House said North Korea's claims are "inconsistent."