NASA Holding Press Conference on Expedition 48 — Here's How to Watch the Livestream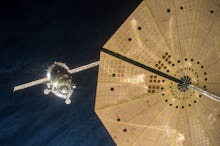 NASA/Getty Images
NASA held a televised press conference at 2 p.m. Eastern on Thursday, which viewers can access on NASA TV. The press conference featured the crew that will make up Expedition 48, a mission that will launch to the International Space Station in March. Among the mission's members is astronaut Jeff Williams, who will be making his third trip to the space station, according to a NASA press release. 
The mission is expected to launch on March 18, according to NASA, and Russian cosmonauts Oleg Skriprochka and Alexey Ovchinin will also be on board for the expedition.
Read more: 
During the live broadcast, Williams cycled through updates about the kinds of training programs the crew members have been running through, both in the U.S. and overseas. "We've had a great experience training together," said Williams, who has spent 362 cumulative days in space. He added, "It's been a very good experience for us and we're looking forward to flying together."
"The crew is completely ready," added Skriprochka.
After the crew members made their opening remarks, they took questions from the media and from viewers following along on social media. One of the first questions asked was about the nature of the expedition's core tasks.
Williams said that a key task of the mission will be facilitating the arrival of a docking adapter, which the crew will install on the front end of the International Space Station. The piece of equipment will help pave the way for commercial space travel by giving newer aircrafts a suitable place to dock. "That's a significant milestone as we all anticipate the first flight and subsequent flights of commercial vehicles," Williams said.
On that subject, Williams added that commercial space travel would be a collaborative effort between Russia and the U.S.
The crew members were then asked a number of questions, including what they're looking forward to about the upcoming launch, what personal items they planned to bring with them into space and what they'll do on board the space station in their free time.
Williams spoke about his excitement of witnessing his teammate Ovchinin live through his first launch into space, and all the first-time experiences that come with it, not least of which is zero gravity. In his free time, Williams said he looks forward to using the new still photography equipment and new lenses on board the space station to take photos of Earth. Ovchinin added that earth observing is a favorite pass time of all those in space, and that photography was also on his "to-do" list.
The crew explained that a special server is also on board the International Space Station, which grants the astronauts and cosmonauts access to pre-loaded movies and music. 
Yet perhaps the most touching moment of the broadcast came when Ovchinin spoke about the items he planned to bring into space. In addition to photographs of loved ones, relatives and friends and other souvenirs, Ovchinin said he planned to borrow a toy from his 8-year-old daughter. The item will come from Ovchinin's daughter's collection of toy owls, of which she is very fond. 
Ovchinin explained that the purpose of the toy is twofold. It will first serve as an object for the crew to video tape once they reach zero gravity. And of course, it will also serve as a keepsake for Ovchinin. "When I come home, I will return it to her," he said.
Jan 7, 2016, 4:25 p.m. Eastern: This story has been updated.