Ricky Gervais Opened the Golden Globes With Jokes About Caitlyn Jenner and 'Transparent'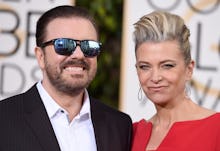 Ricky Gervais opened the 73rd Golden Globes on Sunday night with two jokes about transgender activist Caitlyn Jenner — just as he told the audience that he had become a nicer person and undergone a lot of changes over the past year. 
"I've changed," he began. "Not as much as Bruce Jenner." Jenner came out as Caitlyn Jenner on the cover of Vanity Fair in June and has used that name since. 
After poking fun at Jenner's transition, Gervais made light of Jenner's legal troubles for her involvement in a fatal car crash last February.
"She became a role model for trans people everywhere, showing great bravery in breaking down barriers and destroying stereotypes," he said. "She didn't do a lot for women drivers, but you can't have everything."
After joking about Jenner, he went on to discuss the Golden Globe-winning series Transparent, especially lead actor Jeffrey Tambor, who plays a transgender woman, Maura Pfefferman, on the show. 
"That takes balls," Gervais began. "So I don't know how he does it." Gervais then wondered where Tambor places his penis when he plays the role. 
Watch Gervais' jokes about Jenner below.