Here's How a Prison Instagram Account Earned 76,000 Followers in A Year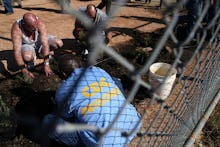 Americans don't know much about what happens inside of United States prisons. That, of course, is by design: Isolation is part of the punishment of incarceration. But the mystery of American prisons is also what drives our cultural fascination with them. Whether it's the introspective glare of Emmy-winning Orange Is the New Black or the tormented spectacle of MSNBC's weekend series Lockup, people want to know what happens behind bars. 
Chances are we already do. Even in a racially stratified society, it's rare to not know someone who's been touched by the long arm of mass incarceration. There are more than 2 million people incarcerated in the United States, and another 12 million cycle through the country's jails each year. Those numbers don't include the millions more under some form of state supervision — probation, parole, house arrest. Decades of tough-on-crime policies have created a situation that both Democrats and Republicans call a crisis that's gutted state budgets and fundamentally transformed people's lives for the worse.
Understanding the scope of the problem, and the contours of those lives, is at the heart of the mission of Everyday Incarceration, an Instagram account curated by longtime criminal justice reporter Lisa Riordan Seville and Zara Katz. They started the account, which curates a wide array of images associated with mass incarceration, in October 2014. That process usually involves getting in touch with individual photographers or families. Since then, it's gained more than 76,000 followers.
Some of the images are more artistic — say, recreations of last meals eaten by condemned prisoners like Ted Bundy. 
The caption reads:
Last meal: steak (medium rare), eggs, (over easy), hash browns, toast with butter and jelly, milk, juice.
When asked how the project started, Riordan Seville, like any good journalist, responded with a series of questions that guide the work. "At this point, it seemed to be a turning point to a certain extent. People on the right and the left were talking about prison reform," she told Mic. "What, then, is the legacy of having high incarceration rates since around 1980? What effects have resulted from that? And how has it changed communities? And if we look at that, what might that tell us about our criminal justice system going forward?"
The caption reads:
Evelyn with money order payable to the Department of Corrections. Flushing, New York. "I pay $90 every three months to parole. If you're not working, you don't have to pay it. But if you have a job, then you have to pay. I just got denied release from parole supervision. When my parole officer told me the news, I was stunned. I've had five different parole officers since I've been out. Since they don't see me often, I don't think they know much about me. But I thought I'd be released. I've done everything right. I work hard. I got promoted. Now I have to keep paying $30 a month for at least two more years. It hurts." Photo and interview by Sara Bennett
Photos, it turns out, proved to be the perfect vehicle through which to experiment with answers. "For me it was kind of this realization that I don't see a lot of prison images," Katz, a photo editor and visual producer, told Mic. "I don't know a lot of these stories."
The caption reads:
Keila living in her cousin's home after her release from prison. Long Island, New York. "My dad bought me this softball glove when I joined the prison team. He died while I was in there. Two officers transported me to the funeral home. They wanted me to go in without my family. I couldn't. I didn't care about their rules and regulations. It was my father. He was my everything. I was in cuffs for 20 hours. He was the man I loved the most in this whole world. It just went all wrong. They made it worse." Photo and interview by Sara Bennett
The caption reads:
Christine White, 53, robbery. "I am a transgender person. I have spent about three years and seven months in segregated custody, cells you wouldn't put dogs into for longer than a day. When I went through the change, I basically hid out for a few years. The satirical part is that I get ostracized by society and then by family, and I guess, in retrospect, I should have probably sough post-gender surgery counseling to deal with these issues." Photo by Ron Levine
And Instagram was the perfect place. "Many of the stories on there have been published elsewhere, or they're images that came out of something [else]," Katz said. "So to say that those are completely untold isn't always true. But it's kind of looking at them anew and also in a space where you're not necessarily expecting to see this. You're not going to a journalistic space. For the most part, Instagram hasn't been used that way."
Update: Jan. 16, 2016