Obama Mocks Potential Trump Presidency As A 'Saturday Night Live' Skit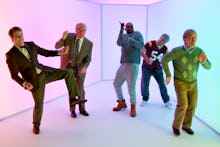 President Barack Obama thinks a possible Donald Trump presidency is kind of a joke — but no laughing matter.
In an interview ahead of Obama's final State of the Union address, Today host Matt Lauer asked the commander in chief if he could envision Trump one day standing at that presidential podium.
"Well, I can imagine it in a Saturday Night [Live] skit," Obama said with a slight smirk, as he and Lauer strolled the halls of the White House.
Obama took a more serious tone when Lauer asked if Obama felt he had fed into the perception that Trump represents an about-face from his own administration.
"The message that Donald Trump's putting out has had adherence a lot of times during the course of our history. You know, talk to me if he wins," Obama said. "Then we'll have a conversation about how responsible I feel about it."
While Trump's message may play into the public's anxieties, and "anything's possible," Obama said, "I'm pretty confident that the overwhelming majority of Americans are looking for the kind of politics that does feed our hopes and not our fears, that does work together and doesn't try to divide us, that isn't looking for simplistic solutions and scapegoating, but looks for us buckling down and figuring out, 'How do we make things work for the next generation?'"
Vice President Joe Biden, who considered his own late-game for the presidency and also appeared on the White House edition of Today, conceded he also believes it's "possible" that Trump could win.
If so, Biden said he hopes the real-estate mogul "gets a lot more serious about the issues, a lot more serious about gaining knowledge about how this nation functions in foreign policy and domestic policy."
Biden called the GOP frontrunner "divisive," adding, "We always do poorly when we play to our fears and our differences."
Obama, who has weathered a steady barrage of criticism from Trump, allowed that he has some regrets about the politically divided state of the nation as he nears the end of his second term.
On balance, however, "I could not be prouder of what we've accomplished," he said.
Trump — who actually did appear on Saturday Night Live in November — played up his tough-guy image as compared to Obama during a Monday night sitdown with late-night host Jimmy Fallon. Fallon brought up the tears Obama shed during his Jan. 5 speech on heightened gun control. 
"Do you cry, ever?" Fallon asked.
"Yeah," Trump replied. "When I was 1, I cried."