Eight Strikes and He's Out: No Mention of Police Brutality in Obama's Final SOTU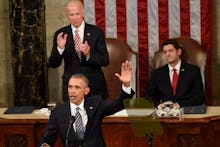 Tuesday night's State of the Union was a victory lap for President Obama — a chance to tout his accomplishments over the course of a historic eight years in office. He gave brief mention to both several of his accomplishments and his policy positions, but rather than recount his wins he chose to "focus on the future." 
But one issue he failed to mention? Police brutality. 
Twitter noticed: 
In fact, the president has never talked about police brutality in depth in any of his State of the Union speeches. He's had moments — decidedly historic ones, to be sure — where he's talked about the lives lost to police violence. Earlier this year, he called police violence against black Americans a "slow rolling crisis," for instance. And during last year's speech, he made a passing reference to "the events in Ferguson and New York," but reasoned, "surely we can understand a father who fears his son can't walk home without being harassed. Surely we can understand the wife who won't rest until the police officer she married walks through the front door at the end of his shift." 
But on the biggest stage of his presidency, when more Americans are tuned in than at any other time of the year, the president has strategically steered clear of outlining the reality, costs, and possible solutions to police violence.
It's a missed opportunity on an issue that has bookended his presidency. Obama officially took office just weeks after Oscar Grant, a 22-year-old unarmed black man, was shot to death in Oakland, Calif. by a transit officer. Since then, the names of people of color, often young black men, who've lost their lives to police officers has only grown. Trayvon Martin, Ezell Ford, Eric Garner, John Crawford III, Walter Scott, Alex Nieto, Tamir Rice, Mario Woods, Laquan McDonald -- the list goes on. Just weeks ago, a grand jury in Texas declined to bring charges in the suspicious death of Sandra Bland, the 28-year-old black women who was found hanging in her cell days after being arrested during a routine traffic stop. Outrage over these cases, and the countless others that proceeded them, have fanned the flames of a new protest movement made up activists both online and in the streets.
It's an issue that's also heavily on young voters' minds heading into this year's election. During Monday night's Brown and Black Presidential Forum, New York Magazine writer-at-large Rembert Browne noted that the police union contracts have sometimes shielded officers during investigations into misconduct. "As president, will you challenge police unions to reform their contracts to encourage more public trust?" Democratic presidential hopeful and Vermont Senator Bernie Sanders dodged the question, answering: "I think what we want to have are police departments that are supported and appreciated by the communities, not seen in an antagonistic way."
President Obama cemented his legacy on Monday night. The fact that a firm and declarative stance on one of the defining issues of our generation wasn't a part of it speaks volumes. As America looks toward its future, it's fair to wonder how and where we might have a meaningful conversation about who's part of it.