There's Another Police Shooting Video Chicago Is Trying to Keep Hidden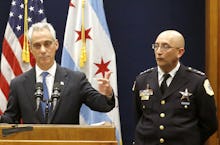 Once again, the city of Chicago has filed paperwork to keep video of police shooting a black teenager from going public. The boy's name wasn't Laquan McDonald, but 17-year-old Cedrick Chatman.
McDonald's videotaped shooting caused protests when it was made public last November, more than a year after he was shot 16 times by officer Jason Van Dyke. The case, and the alleged cover-up that preceded it, has put Chicago Mayor Rahm Emanuel in the hot seat, with a growing number of residents calling for his resignation.
So far, this case is damningly similar. In the police's version of events, Chatman allegedly fled a stolen vehicle on Jan. 7, 2013, led two officers on a foot chase, and then turned back toward the officers, who said they shot him because they feared for their lives. Lorenzo Davis, the independent police investigator, says he was fired after refusing to rule that the shooting was justified. 
Brian Coffman, Chatman's mother's attorney, told CNN the video of the shooting shows that the teen — who was 5 feet 7 inches tall and weighed 133 pounds — wasn't a threat to the officers. "You have everything going on in Chicago right now rolled into one case," Coffman said. "The importance of releasing the video is it helps promote the change in transparency that everybody wants and the mayor has pledged."
All of this comes amid Emanuel's promise to be transparent about the police's dealings with the public. In November, Van Dyke was charged with murder and McDonald's video was made public. Subsequently, the U.S. Department of Justice announced an investigation into the Chicago Police Department, and Emanuel told reporters at a press conference that things would change. "You have my commitment in every fiber of my body to not only work with the Justice Department in the sense of cooperative efforts, but then use all my energy to bring that level of reform and change," Emanuel said.
This case may be his final test.