The 7 Best New Netflix Originals Coming in 2016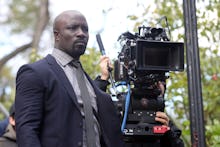 Steve Sands/Getty Images
As the market for streaming services continues to grow and become more competitive, Netflix has opted for more original programming to compete with the likes of Hulu and Amazon Prime. According to Wired, in total, Netflix will offer 31 scripted series, 30 children's series and 10 feature films in addition to documentaries and standup specials in 2016. Of course, that's a lot of new shows to sift through, but there are a handful of new programs that are certain to stand apart. 
Fuller House (Feb. 26)
In the tradition of rebooting shows that had since left the airwaves, such as Arrested Development and Longmire, Netflix is reviving the American sitcom classic Full House — now, Fuller House. The full Full House cast, sans Michelle Tanner, played by Mary-Kate and Ashley Olsen, will return on Feb. 26. Though it's not entirely clear how the show will work around the character's disappearance, the teaser trailer is filled with San Francisco Victorian houses and '90s nostalgia. 
The Get Down (TBA) 
Set in 1970s New York City, The Get Down will focus on a group of teenagers in the South Bronx and their respective roles in the hip hop, punk and disco booms of the era, according to Deadline. Along with some relative newcomers, the show will feature the likes of Jimmy Smits, Breaking Bad's Giancarlo Esposito and Jaden Smith. Though a release date has yet to be announced, the fact that Netflix has released a full-length trailer for the series bodes well for an early 2016 release.  
Chelsea Handler Talk Show (TBA)
Chelsea Handler will be returning to the late night airwaves, a welcome sign for a group that is noticeably male. Handler said in an interview with Variety that she's going to take a more serious approach to her new show, as she hopes to bring a satirical, Daily Show element to the "well-roundedness of 60 Minutes but faster, quicker, cooler." While the talk show doesn't have a release date or official name, Netflix will premiere a four-part documentary series, Chelsea Does, on Jan. 23. In it, Handler will tackle four topics: Silicon Valley, marriage, racism and drugs. 
Stranger Things (TBA) 
Another period piece, not much is known yet about Stranger Things, but it certainly piques interest. Originally titled Montauk (after the New York town), the Netflix original will take place in a 1980s Long Island small town, where a boy vanishes under mysterious circumstances involving supernatural forces, according to Deadline. The series was created, written and produced by Matt and Ross Duffer, whose most recent work includes Fox's sci-fi thriller, Wayward Pines. 
Luke Cage (TBA)
Fresh off the overwhelming success of Jessica Jones, Netflix will again venture into the Marvel universe and tell the story of the titular Luke Cage, Jones' romantic interest from season one. Luke Cage will likely show the origin of Cage's powers (he is, essentially, indestructible), though whether Netflix follows the character's comic book path is still unknown. 
Marseille (TBA) 
In short, Marseille could effectively be described as a French-language House of Cards, and frankly that wouldn't be a bad thing. According to Variety, Gerard Depardieu will star as Robert Taro, the 25-year veteran mayor of Marseille, France, in the new Netflix original series. However, in the city's next electoral race, he is pitted against a young, hot upstart successor in the political spectrum, played by Benoit Magimel.  
3% (TBA) 
The first Netflix show that's entirely shot in Brazil, 3% will be set in a post-apocalyptic world. The series' plot gleams dread, as everybody in the dystopian future is given a chance to escape their devastating lives. The catch, however, is that only 3% of applicants willing to take the risk will succeed. "Ultimately, the series questions the dynamics of society that imposes constant selection processes we all have to go through, whether we like it or not," series creator Cesar Charlone said in an interview with Variety. May the odds be ever in their favor.