This Sex Worker Just Destroyed Peru's Congress in the Best Way Ever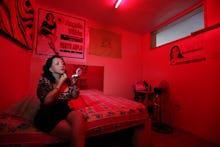 Add this to your list of good things happening in the world: Angela Villon, a Peruvian woman who's done sex work for more than 30 years, is running for her nation's Congress to help combat sex trafficking and violence against women.
Her story, as detailed by AJ+, is a heartwarming tale of people not needing to be "saved." And she's doing it by throwing lots of shade at the country's political elite. 
"We [sex workers] say that Congress is the country's first brothel," she told AJ+.
Those comments alone make Villon's run for Congress noteworthy. But her proposed agenda if elected is what's really special. Just last month, a 64-year-old North American named Joshua David Brown was arrested in Peru and accused of facilitating sex tourism and exploiting children in the process. The raid that led to his arrest rescued 36 alleged victims, including 11 minors. The arrests are just one example of sex- and gender-based violence in the country, in which 186 women faced attempted murders by their male partners and another 95 women were killed in 2015, according to AJ+.
"[Congress] is where consciousness, faith, and principles are for sale ... where corruption is under the table," Villon said. 
General elections in Peru take place on April 10. 
h/t AJ+