Here's Cure4Camden's Prescription to End Violence in One of America's Forgotten Cities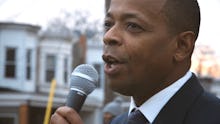 A 13-year-old boy from Camden, New Jersey, was buried on Monday. Nathaniel Plummer Jr., described by family members in a local newspaper as a "phenomenal writer" and "good boy," was fatally shot a short distance from his grandmother's house on the evening of Jan. 7. Plummer was the oldest of three kids — before him awaited a future. But Plummer was the city's first homicide victim this year. His future disappeared. Every aspect of his brutal death is grievous. 
Laying to rest a black boy — whose short life was ended by gunfire  — is poignant as the country honors the memory of Martin Luther King Jr., remembered for his violent assassination on April 4, 1968, and the six principles of nonviolence he preached and lived before he was shot. 
Violence is such a prevalent feature of U.S. culture that constant reminders of its perilous impact and the possibility of its cessation are necessary. More than that, the public needs people and groups courageous enough to voice the imperative call for peace — collectives unafraid to interrupt the mundane flow of violence in communities across the country. Enter Cure4Camden.
Combatting violence as a public health concern: Cure4Camden is a relatively new, government-funded initiative of the Center for Family Services — a nonprofit community-based organization serving communities, like Camden, in southern New Jersey for 90 years. The team is small and is augmented by a host of volunteers. CFS modeled their initiative after Cure Violence, a Chicago-based program founded in 2000 by Gary Slutkin, M.D., a professor at the University of Illinois at Chicago School of Public Health. 
Like Cure Violence, Cure4Camden addresses violence as a public health concern and attempts to reduce shootings and killings by detecting and interrupting violent incidents before they occur, providing supportive services to individuals at risk and conveying a message of nonviolence. This approach is critical, especially in communities populated by blacks and Latinos, because it shifts the focus from perpetrators and victims of violent crime to the range of social issues that may create the conditions for increased rates of incidents. 
Refuting the dangerous myth of black cultural pathology: In predominantly black cities like Camden, listed as the "most dangerous city" in the United States in 2015 on Neighborhood Scout's annual roundup, violent crime might be misconstrued as the result of poverty or a consequence of the seeming pathos present in black culture. This line of thinking was what compelled an extensive debate between the Atlantic's Ta-Nehisi Coates and New York Times' Jonathan Chait in 2014, leaving Coates to argue: "There is no evidence that black people are less responsible, less moral or less upstanding in their dealings with America nor with themselves."
In the public sphere, the pervasive idea of black pathos, as Slate's Jamelle Bouie has pointed out, may take the form of politicians or pundits demanding black people be as concerned about the consequences of black-on-black crime as they are police abuse or white-on-black crime. But the fact is: Inflated rates of violent crimes committed by black people against other black people is not an anomaly. 
According to 2015 data from the Department of Justice, rates of intraracial violence (white-on-white, black-on-black, Latino-on-Latino, etc.) are nearly consistent among all racial groups, despite drastic decreases in crime — across racial lines —  in the United States over the last two decades. 
Even more, the existence and transformative work of groups like Cure4Camden are a sharp critique of the prevailing myth that black people only think black lives matter when black people are killed by police and not when black lives are snuffed out by black perpetrators.  
Cure4Camden, like many groups across the country, works daily to ensure that shootings and killings stop in the communities they serve. They understand that people need resources, access to educational opportunities, jobs, fewer obstructions to success, minimized barriers of discrimination and bias and much else in the absence of guns, drugs and spare time. 
King suggested nonviolence is a way of life followed by the courageous in his first book, Stride Toward Freedom. Cure4Camden's team is comprised of resolute leaders who are pushing those in their community — and the lawmakers and policymakers charged with the community's care — to also understand how important it is to create the economic, social and political conditions through which courageous people can flourish as a result and not resort to violence. 
To learn more about some members of the Cure4Camden team and the ways their work is positively impacting the city of Camden, check out Episode 1 of The Movement: