Aunt Viv Slams Jada Pinkett Smith Over #OscarsSoWhite Boycott and We Should Applaud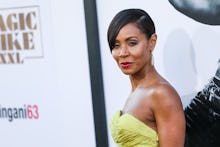 Black actresses Jada Pinkett Smith and The Fresh Prince of Bel-Air's Janet Hubert have the internet warring over what matters more: #OscarsSoWhite or #BlackLivesMatter?
Monday, actress Pinkett Smith set the world on fire when she announced that she was boycotting the Oscars. The move came after the Oscars nominees were announced, and for a second year in a row, no black actors earned a nod. In a video that was posted to Facebook, titled "We must stand in our power," Pinkett Smith explained her decision, asking viewers, "Is it time that people of color recognize how much power, influence that we have amassed that we no longer need to ask to be invited anywhere?"
On Monday Spike Lee also announced his intention to boycott the ceremony. It is perhaps these announcements that prompted Cheryl Boone Isaacs — president of the Academy of Motion Picture Arts and Sciences, who is also a black woman — to say in a statement that "we have implemented changes to diversify our membership" but "we need to do more, and better and more quickly."
Also responding to Pinkett Smith was Hubert, a black actress best known for her portrayal of Aunt Viv on Will Smith's hit 1990s television series The Fresh Prince of Bel-Air and star of perhaps the best sitcom dance routine of all time. To put it lightly, Hubert was not happy with Pinkett Smith's call to action. 
"Girlfriend, there's a lot of shit going on in the world that you all don't seem to recognize," Hubert said in the video. "People are dying. Our boys are being shot left and right. People are hungry. ... And you talkin' 'bout some muthafuckin' actors."
Twitter had a field day with the apparent fight between two prominent black entertainers that was unfolding:
Both points are well-taken. The Oscars should reflect the world in which we live, and black actors should publicly engage with all that's left to fix in that world.
In fact, while this unfolded online, an actor- and activist-led group called Blackout for Human Rights gathered some of Hollywood's brightest black stars to commemorate Martin Luther King Jr.'s birthday. Chris Rock, who's scheduled to host this year's Oscars, read James Baldwin's 1963 letter "My Dungeon Shook" to the audience. Michael B. Jordan, the star of the hit film Creed, recited a speech by slain Black Panther Fred Hampton. Dear White People actress Tessa Thompson recited a speech originally written by Angela Davis. The day was a poignant reminder that black actors have always been bound to the communities from which they came, communities that have long struggled and whose stories they are desperate to tell on the big screen.
Pinkett Smith and Hubert's back-and-forth isn't an online catfight; it's a crucially telling milestone. There are perhaps few things more meaningful than two black entertainers publicly debating black activism in this political moment. 
Here's Hubert's video in full:
Get the five stories that will challenge you to rethink the world by signing up for MicCheck Daily.