Ja Rule Made a Comeback With Drake and DJ Khaled, But It's Not What You Expect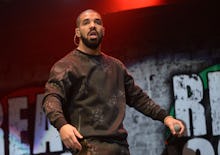 Rap isn't always known as the genre of romance, but one 24-year-old artist in New York is reminding people that love can come from unexpected places. Michelle Alfonso created these special Valentine's Day cards featuring famous rappers from the last two decades, including Ja Rule, Cam'ron, Drake and DJ Khaled:
Alfonso has been making the cards for years. In an interview with Elite Daily, Alfonso described falling in love with her boyfriend three years ago and wanting to impress him for Valentine's Day. "I'm into personalized gifts, so I wanted to make something simple (didn't want to scare him off with a huge portrait of his face) so I decided on a card," she told Elite Daily. "I thought, 'What kind of card would I want?' and that's basically the question that I always ask when I start a new card."
The result: adorable cards featuring hip-hop stars that are available on Instagram, Tumblr and Etsy.