New York Implements Statewide Regulations to Protect Trans People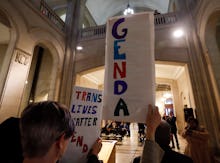 Wednesday is a milestone in Empire State history, because it marks the beginning of hard-fought regulations that ban discrimination and harassment against transgender New Yorkers.
"Today we are sending the message loud and clear that New York will not stand for discrimination against transgender people," Gov. Andrew Cuomo said in a press release. "It is intolerable to allow harassment or discrimination against anyone, and the transgender community has been subjected to a second-class status for far too long. This is an issue of basic justice, and I am proud that New York is continuing to lead the way forward."
The regulations ban discrimination and harassment on the basis of gender identity. Specifically, the rules allow individuals who can prove that they've been discriminated against on the basis of their gender identity by employers, housing providers, public or private businesses to file on complaints and get monetary compensation. The penalty for people caught doing the discrimination is steep: up to $100,000 in fines if their actions are deemed "willful, wanton or malicious." Importantly, the governor's office notes that "unlike under federal law, compensatory damages to individuals are not capped."
The governor's office first introduced the regulations in October. New York State's Human Rights Law has been on the books since 1945, and the governor's actions this week allow current protections of gender to be interpreted to include gender and sexual identity. In New York City, the Commission on Human Rights in December amended a law to defend the rights of transgender people in the city.
One piece of federal legislation that would outright ban discrimination specific to gender and sexual identity, called the Employment Non-Discrimination Act, has been stalled in Congress for years. A similar piece of legislation called the Gender Expression Nondiscrimination Act failed in the New York State legislature in its 2015 session. 
For advocates, Wednesday's milestone is an important step on a much longer road. 
"These clear legal protections go a long way toward allowing transgender New Yorkers to enjoy dignity, respect and access to opportunity in New York," Donna Lieberman, executive director of the New York Civil Liberties Union, said in a statement. "However, in order to ensure full equality there is more work to do. Gender identity and gender expression should be explicitly included as protected categories under New York State's Human Rights Law, on equal footing with other protected classes including sexual orientation, race, religion and disability. By enacting GENDA, New York can establish itself as a leader in protecting and respecting the rights of all."