The Buffalo Bills Just Hired the NFL's First Full-Time Female Coach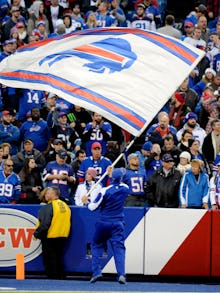 The Buffalo Bills' season may be over, but they're still making news. On Wednesday, the team hired Kathryn Smith as a special teams quality control coach, making her the first full-time female coach in league history.
Smith has worked for the Bills for the past seven years, during which she was doing an "outstanding job," head coach Rex Ryan said in a press release. In that same statement, Ryan talked about the importance of Smith being a woman and referenced similar hires made recently by other male professional sports teams. "You can see the success some of these young ladies are having in the coaching profession, such as the young lady that is an assistant to Coach (Gregg) Popovich at the San Antonio Spurs, and realize how exciting this is for women like Kathryn Smith as well as the Bills organization."
Putting the subtle sexism of "young ladies" aside for just a second (Smith has worked in the NFL for more than a decade), her hire does come on the heels of two similar high-profile hires in recent years. In 2014, former WNBA star Becky Hammon became the NBA's first full-time female assistant coach by the San Antonio Spurs. In 2015, the NFL's Arizona Cardinals made Jen Welter a training camp/preseason intern coach for linebackers. 
On an incremental level, the league's internal makeup is starting to reflect its fan base. Women make up 45% of the NFL's fan base and 33% of its viewing audience, according to recent data. The league's 32 teams are worth a combined $45 billion, but that and any continued success will be due to its ability to attract more female supporters. "For the NFL to grow, it has to court women, its fastest-growing fan demographic," Eric Chemi wrote for Bloomberg Business. "No matter how you measure it, female viewership has grown much faster than male viewership in the past several years."
The league is paying attention. Since 2009, the league has marked October's Breast Cancer Awareness Month by allowing its players to wear pink socks, shoes, stickers, towels, glovves and wristbands, and has stated that its efforts have raised at least $3 million for research into the disease.
But many observers have pointed out that the NFL has fallen considerably short in meaningful action regarding the issue of domestic violence. NFL Commissioner Roger Goodell suspended former Baltimore Ravens running back Ray Rice for several games after video surfaced of him dragging his unconscious partner from an elevator. Weeks later, more video emerged showing Rice brutally knocking that woman, his now-wife Janay Rice, out cold. After public pressure, Goodell suspended Rice indefinitely. Former Carolina Panther Greg Hardy was arrested and charged in 2014 with beating his former girlfriend and throwing her onto a sofa strewn with guns. The case was dismissed after the defendant failed to show up in court, and Hardy played the 2015 season with the Dallas Cowboys. In November, Deadspin published shocking photos of the woman's injuries. Hardy's total suspension lasted only four games. 
"I hope and expect that women as consumers of sports ... feel empowered enough not only to say this is unacceptable but to do something about it," Wendy Murphy, a former NFL cheerleader and attorney who runs the Women's and Children's Advocacy Project in Boston, told the Washington Post. "But it's so easy to default to the gentle version of the narrative. We don't want to believe our heroes can be so brutal."
Smith's hiring is progress. But the league still has a long way to go.