Hillary Clinton Gets Yet Another Endorsement From a Black Mom Whose Son Was Killed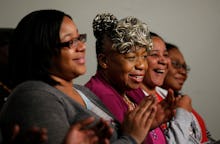 Gwen Carr is a woman whose 43-year-old son, Eric Garner, died during an altercation with police on Staten Island in 2014. There weren't criminal indictments in Garner's death, but it inspired raucous protests nationwide. Now, Carr has publicly endorsed former Secretary of State Hillary Rodham Clinton in this year's race for the presidency. 
"I think all of us need to make the time to be involved in this election. With all the violence and injustice that's upon us today, we need a candidate who can move us forward — that's Hillary," Carr wrote in an email to Clinton supporters. "We need to elect her, not just for us, but for our children, our grandchildren, and their children. We have to bring forth a legacy that will outlive us."
Carr's endorsement comes just days after Jordan Davis' mother, Lucia McBath, endorsed Clinton in an op-ed on BET.com. "I stood behind President Obama when he announced new executive actions aimed at narrowing the loopholes in our laws that make it easy for dangerous people to get guns," McBath wrote. "But the truth is that the president can only clarify the law — and without Congressional action, these measures are only minor fixes that do not close the loopholes. That's why my choice for president is clear: I'll be voting for Hillary Clinton."
Earlier this month, Trayvon Martin's mother, Sybrina Fulton, announced her endorsement of Clinton with an op-ed on CNN. "I know Clinton is tough enough to wage this fight. I've seen her do it for years. As first lady, she advocated for the Brady Bill and convened meetings on school violence. As a senator, she voted to extend the assault weapons ban and against an immunity law that protects irresponsible gun makers and dealers from liability."
In November, Clinton held a two-hour meeting with Fulton and the mothers of Michael Brown and Tamir Rice. Afterwards, she tweeted: 
That these's women's endorsements are being sought at all is an indication of just how important extrajudicial violence against black men has become in this year's election.