Cu Rua, the World's Most Important Turtle, Is Dead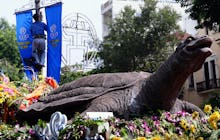 Cu Rua, a rare Yangtze giant softshell turtle living in Vietnam, was found dead Tuesday after its body floated up to the surface of Hanoi's Hoan Kiem lake.
Named after the Vietnamese term for great-grandfather (despite being determined to be female), Cu Rua had grown into a revered cultural symbol in the country over the decades. Thought to be over 100, its death brings the worldwide population of the rare turtle to three. For locals, the turtle's demise came as a blow.
"Cu Rua has been the symbol of our land for hundreds of years," Hoang Huynh, a 20-year-old promoter, told Mic. "He was a living creature of our capital, and his death caused a lot of pain for Hanoians. Even though he died, his symbolism and legend will live on."
The turtle was believed to have been in ill health for several years. In 2011, Vietnamese authorities pulled it from the lake for a health inspection that revealed numerous lesions. 
Local legend says that Cu Rua is the incarnation of a mythical creature that received a magical sword from the 15th-century Vietnamese emperor Le Loi and brought it beneath the water on behalf of a divine owner. The animal's death comes just days before Vietnam's Communist Party Congress on Thursday, timing so inauspicious that state propaganda even directed that "to cheerfully welcome the party congress, newspapers and media please do not report on the turtle's death for now," the BBC reported. 
Many, however, took the death in stride. "I don't really feel anything differently. He was old, so there would be a day he would have to leave us," Son Ngo, a 29-year-old who works in advertising, told Mic. "I was born and raised in Hanoi, but I have never got to see him even once. Perhaps that's why I don't really feel sad about it." 
The sentiment was echoed by several others contacted by Mic, most of whom were less than one-fifth the prodigious turtle's age. 
Nevertheless, a grand old turtle was lost this week. 
Farewell, Cu Rua. Farewell.
Tri Vo contributed reporting to this article.