2016 Election Candidates: List of Top Republican Names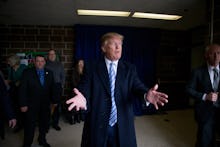 Andrew Harnik/AP
While there are still, unbelievably, 12 GOP candidates running for the presidential bid, we can taper the list of realistic candidates down to five — and even that may be generous. However, each of these candidates has either surged in the polls quite recently or still has enough political backing to mount a comeback on current Republican frontrunner Donald Trump. May the odds be ever in their favor. 
Read more: 
Donald Trump: The real estate mogul is still the undisputed leader in GOP polls, as he holds 36% support among likely Republican voters, according to the latest national poll by Monmouth University, released on Wednesday. However, in a Pew Research Center poll released on the same day, 52% of voters said they believed Trump would either be a "poor" or "terrible" president. 
Ted Cruz: Texas Sen. Ted Cruz is still second among Republicans with 17% support in the latest Monmouth poll, and as a result, Trump has recently set his sights on the senator's citizenship as a means to take him down. Just as he did with President Barack Obama, the real estate mogul has insisted that Cruz is not a "natural-born citizen," having been born in Canada and only recently renounced his Canadian citizenship. 
In the aftermath, roughly one-third of Republican voters do not believe or aren't sure whether Cruz is a natural-born U.S. citizen. 
Marco Rubio: Among Florida-based presidential candidates, Sen. Marco Rubio is first (sorry, Jeb). Nationally, he sits at third with 11% in the latest Monmouth poll, however, he's one of only three candidates with double-digit poll numbers. Additionally, in the Pew poll, Rubio has mixed reviews as a candidate, with 25% of those surveyed saying he would be "good or great, 28% poor or terrible and 33% average." Broadly, he holds more appeal with conservative GOP voters, rather than moderate or liberal Republicans, according to the poll. 
Heading into the Feb. 1 Iowa caucus, though, Rubio has earned the endorsement of two major print publications to help his bid: Des Moines Register and Sioux City Journal.
Ben Carson: Retired neurosurgeon Ben Carson is fourth among Republican candidates in the latest Monmouth national poll, but he has been in a steady decline since December. In a national poll released by Quinnipiac University Nov. 4, Carson was second among GOP hopefuls with 23% support — one point behind Trump. Since then, though, he's followed it up with 16% in a Dec. 2 Quinnipiac poll and 10% in the latest national poll from the university, on Dec. 22. 
What has hindered Carson most of all is his apparent lack of foreign policy knowledge, which has resulted in poor showings in debates and interviews. Meanwhile, the late night scene is soaking it up, with The Daily Show's Trevor Noah using it as an opportunity to practice his already impressive Carson impression. 
Jeb Bush: Former Florida Gov. Jeb Bush has continued to produce poor polling numbers — just five points in the latest Monmouth poll — despite having the highest level of political support among his peers. According to FiveThirtyEight's endorsement metrics, Bush has the most endorsements of any GOP candidate, with 51 points. Generally, political endorsements are a good indicator of success in winning the nomination, but at this point, it's one of few positives in Bush's campaign. 
Trump, meanwhile, has remained on the offensive when provoked by the former governor: