Four Years Ago, the NYPD Killed a Homeless LGBT Activist — New Yorkers Want Answers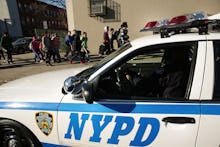 It's been more than four years since Yvonne McNeil, a 57-year-old homeless lesbian activist, was fatally shot 14 times by New York police officers. But in an era of heightened discussion of police accountability, New Yorkers are still demanding answers.
On Monday night, roughly 30 activists demonstrated at Grand Central Station to raise the public's awareness of McNeil's case. Keegan Stephan is an organizer with a group called NYC Shut It Down, which holds public protests every Monday in New York City to bring attention to victims of police brutality. 
"There was a ridiculous police narrative that she was holding two knives even though she walked with a cane and was well-known to be nonviolent," Stephan told Mic. "We try to highlight women and people from the LGBT community [through our protests]."
McNeil was an African-American woman who was confronted by police outside of a homeless shelter where she lived on Oct. 1, 2011. Details of what followed are in dispute: Police say they opened fire after McNeil refused to drop two knives and then lunged at officers, according to a report from the New York Daily News at the time. Yvonne's sister, Laura, said that McNeil was shot 14 times, in a video posted to Facebook.
In 2011, a grassroots LGBT group called Queers for Economic Justice said the following: "Yvonne's killing underscores the reality that the police cannot be relied on to respond compassionately to low-income LGBTQ people when it concerns issues of safety in our communities." The group added: "It cannot be accepted that calling the police can be deadly for low-income LGBTQ New Yorkers."
In the four years since, accusations of police brutality and misconduct have gained more attention, thanks largely to the protest movement Black Lives Matter. Similarly, violence targeting LGBT people of color, particularly transgender black women, has made national headlines.
For many activists, those two narratives of violence are deeply intertwined. Near the fourth anniversary of McNeil's death in October, the Audre Lorde Project, a New York-based LGBT group, said that LGBT people of color in poverty live "under a constant state of fear of harassment, violence, rape, and murder from people on the street and state officials." The group called the problem "a state of emergency."