Earl Sweatshirt Drops 3 New Tracks, With 1 Reimagining Some Classic Kanye West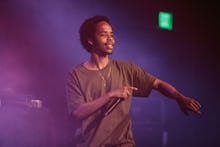 In the middle of the night Tuesday, insomniac Earl Sweatshirt dropped three new tracks on his unsuspecting fan base.
Save for the odd leak or 10-minute confessional, fans have heard little from the rapper since he dropped his excellent I Don't Like Shit, I Don't Go Outside in March. "Let's get reacquainted," he tweeted, following his first shared track "Wind in My Sails." The song samples the beat from Captain Murphy's "Children of the Atom," which it chops up into a skittering, moody instrumental. It provides the ideal base for Earl's lugubrious flow.
Source: SoundCloud
The lyrics find Earl working to break out of the contemplative, depressive vein he began on I Don't Like Shit, I Don't Go Outside. "Kinda shabby but my momma told me man up," he spits. "It's now Popeye with the anchor tats and the spinach." He turns attention away from himself onto the rest of the rap game, "A lotta father figures followin' trends/ I ain't involved with 'em/ Lemmings like to fall off of cliffs/ And bring they squad with 'em."
The other two cuts are verseless beats of a similar style. The simply titled "Bary" takes a sample of Kanye West's "Barry Bonds" and brings it into Earl's own dark, warped world. "SKRT SKRT" takes a jazzy, lounge tune and overlays samples of rappers spitting the ubiquitous, tire-screeching ad-lib.
Source: SoundCloud
Source: SoundCloud
Every track is a vision of the closely curated fuzzed out, lo-fi aesthetic Earl has been cultivating on his last few projects. They also offer a glimpse into just how much his music is veering away from the rest of his former Odd Future family. 
Earl has been attempting to distance himself from the group and its lyrical legacy of rape, murder and hooliganism since May when Tyler, the Creator implied the group wouldn't be recording as a collective anymore. As recently as Monday, Earl tweeted that the "obsessive cult OF fans are the karma I'm dealing with from decisions I made in my youth."
However, Earl may have new projects on the horizon. On Monday master of Chicago footquirk Chance the Rapper tweeted that he's "been wanting to be in a rap duo with Earl Sweatshirt for many years." Whether that means fans can expect a collaborative project remains to be seen. But if that did happen, alternative hip-hop fans would have enough food for thought to last them weeks or months — perhaps even years.