Is Frank Ocean Planning an Adele-Like Comeback?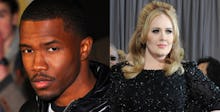 Mic/AP
A new world of music will be released in 2016. Whether that world will include Frank Ocean, however, is anyone's guess. The R&B artist broke fans' hearts in 2015 when he promised new music would be arriving in July, then failed to follow through. 
Not only did the 28-year-old singer-songwriter stop putting out new music, but he ceased his blogging on Tumblr and vanished from social media — save for one post condemning Republican presidential frontrunner, billionaire Donald Trump.
So, are the tides turning on Frank Ocean, or could this be the calm before the storm?
Music became an increasingly surprising industry in 2015. Adele's inconspicuous initial advertising for 25 came in the form of white writing on a black screen without any details of a forthcoming album, yet marked the official comeback of the British powerhouse vocalist. It worked; after stepping away from the Hollywood limelight for nearly three years, Adele's return to music (and the media) was a massive commercial success, with her latest album shattering sales records.
Rihanna slowly revealed the whereabouts of her forthcoming album, Anti, through a complex and secretive campaign called #ANTIdiaRy. After posting her first selfie on Twitter in months on Monday stating she was listening to the album prior to its release, the "Navy" was relieved to find out new music from the Barbadian beauty would be coming soon. Super soon. 
Read more:
Even Kanye West, whom is notoriously silent across social media, has been tweeting up a storm, releasing new music nearly each week as part of his traditional #GoodMusicFridays leading up to the Feb. 11 release of Swish. Before recently, however, nobody had any idea what exactly Yeezus was up to. 
The same goes with Adele, who didn't post a single tweet, conduct a single interview and definitely didn't post any fire $9,000 selfies. Her comeback, however, included exclusive TV specials in New York and London, as well as a world tour.
Ocean could come crashing ashore. When Beyoncé released her self-titled surprise digital album in 2013, the world stopped: The songstress cracked away at a number of sales records as well, selling well over 600,000 copies of her album on iTunes in just 72 hours. Before her fifth studio album dropped Dec. 13, the queen of the "BeyHive" went underground, essentially disappearing into thin air. Thereafter, the "Drunk in Love" singer raked in a variety of new sponsorships like Pepsi, and performed at the coveted Super Bowl halftime show with her new music. 
In fact, she was so out of the limelight before releasing Beyoncé, there wasn't even much speculation as to when her new music would arrive.
Perhaps he's taking a page out of Adele's comeback book. Or, Ocean could be going with the flow of the music industry, planning to drop his new album with no warning. No matter what the situation behind-the-scenes is, only one thing is clear: Music fans are hungry for new content, and 2016 is the year it will arrive in droves. One can only hope it has the Ocean's blues.