Here's What Celebs Fighting Over Flint's Water Crisis Says About Us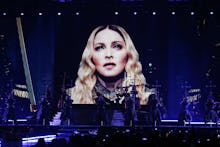 Flint's man-made water crisis is now such a disaster that celebrities are fighting over how much money they should donate to help fix it.
The list of celebs who've now got Flint, Michigan, on their radars — and in their bank accounts — is long and growing: Sean "Diddy" Combs and Mark Wahlberg's co-owned water company AQUAhydrate promised to donate 1 million bottles; Eminem and Wiz Khalifa have also joined their effort. 
Madonna matched Jimmy Fallon's $10,000 donation and then blasted her effort on Twitter:
Not to be outdone, rapper Game went on Instagram and announced his personal connection to the crisis. "My younger sister and her children live there," he wrote, before criticizing other celebrities "on here faking using the word 'pledge' in their so-called donations." He then wrote that on behalf of his charity he donated $1 million, half of which came out of his own pocket from proceeds he made on his recent European tour. 
And, lest anyone doubt his sincerity, he posted a screenshot of his charity's account balance, which may or may not have made a huge dent in the $13 million checking account balance, but his point was well-taken:
It's never a bad thing for celebrities to donate their time and money to social causes. But let's be clear about what exactly this is: a private investment to make up for a horrifically broken public commodity. This is not Jay Z getting Brooklyn, in New York City, on board with a new stadium. This is not 50 Cent selling premium flavored water. This is not even like the people of Houston asking Beyoncé to step in and publicly denounce efforts to repeal a pro-LGBT city ordinance. This is a whole host of celebrities pouring millions of dollars into an effort to provide Flint's residents with the most basic of commodities: water. 
It's celebrity, and all the ego that comes along with it, being used to make up for the egos of publicly elected (and appointed) officials who made a series of awful decisions, ignored residents' concerns and then tried to cover it all up. It's a majority black city being stripped of its democracy after decades of disinvestment. It's a private endeavor to fix a public catastrophe.