The Wiz Khalifa and Kanye West Beef Is Part of a Long History of Using Women as Ammunition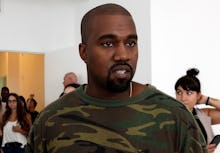 By now, Kanye West's epic Twitter rant about Wiz Khalifa is the stuff of internet legend. We learned that a powerful man in hip-hop can still denigrate a powerful woman in hip-hop for his own good. 
In case you missed it: Khalifa made a legitimate point about West's new album title; West mistakenly thought Khalifa insulted his wife; and then Yeezy unleashed a bizarre, 17-reason rant about how the Pittsburgh rapper's supposed wackness led someone to edit his Wikipedia page to say that he died. The whole thing was filled with bravado and not-so-subtle slut-shaming, with West tweeting that Khalifa "Let a stripper" — presumably his ex-wife Amber Rose — "trap you" and have his child.
West eventually deleted his tweets because, as he put it:
Sadly, that positive energy hasn't extended to his longtime feud with Rose, his ex-girlfriend. In 2015, West was a guest on Power 105.1's the Breakfast Club when he talked about his previous relationship. 
"If Kim had dated me when I first wanted to be with her, there wouldn't be an Amber Rose, you know what I'm saying?" He followed that up with, "I had to take 30 showers before I got with Kim." The implication wasn't so subtle: Rose, who has talked openly about her past as a stripper, has made a career out of body positivity, and has since hosted her own version of SlutWalk in Los Angeles, was dirty.
Khalifa's comments haven't been much better. In a track with Juicy J, he rapped, "Man, I fell in love with a stripper, funny thing is I fell back out of love quicker." The track led Rose to break down on stage at her SlutWalk, which took place last fall. 
"He came out with this song that really hurt me, because all I did was ever love him," she said. "I loved him so much and gave him a beautiful son, and to be told that I was nothing but a stripper. It hurt."
Even when women in the industry don't say a word, the men in their lives find ways to take shots at their greatness. Drake won his recent beef with rapper Meek Mill on the diss track "Back to Back" where he made fun of Mill's second-billing to girlfriend Nikki Minaj's The Pinkprint World Tour, "Is that a world tour or your girl's tour?" and then "I'm not the type of nigga that will type to niggas/ And shout out to all my boss bitches wifin' niggas!"
Source: Soundcloud
And lest we forget one of the biggest dick fights in hip-hop history: Tupac's diss to Biggie during the height of the East Coast-West Coast beef in which 'Pac opened up his track "Hit 'Em Up" with "That's why I fucked your bitch you fat muthafucka" —  referring to Faith Evans, who at the time was one of the most promising young R&B artists around. 
This time, it's Rose who seems to have had the last word. 
Till next time.