Watch Michael Jackson Tell Oprah He Doesn't Want a White Actor to Play Him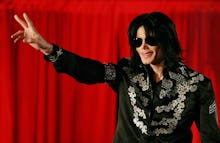 In the middle of a controversy over white actor Joseph Fiennes' new role as Michael Jackson in an upcoming British TV show, who better to hear from than the King of Pop himself?
Jackson died in 2009, but years before that, in 1993, he did a wide-ranging interview with Oprah. In it, he touched on a rumor at the time that Jackson wanted a young white actor to play him in a Pepsi commercial. 
"That's the most ridiculous, horrifying story I've ever heard," Jackson said emphatically. "Why would I want a white child to play me? I'm a black American. I'm proud to be a black American. I am proud of my race, I am proud of who I am."
Oprah doesn't stop there. She points out that Jackson's physical appearance had changed drastically from when he was a dark-skinned black child, which led to persistent rumors that he was bleaching his skin. Oprah then goes for the jugular: "Is your skin lighter because you don't want to be black?" Jackson responds, "I have a skin disorder that destroys the pigmentation of the skin. It's something that I cannot help. When people make up stories that I don't want to be who I am, it hurts me."
Jackson's comments are especially instructive in light of the British production company behind Fiennes' show, Sky Arts, standing by the decision to cast Fiennes in the role. 
"Joseph Fiennes is cast as Michael Jackson. It is part of a series of comedies about unlikely stories from arts and cultural history," Sky Arts wrote in an email to Mic. "Sky Arts gives producers the creative freedom to cast roles as they wish, within the diversity framework which we have set."
Fiennes was also asked about the controversy Wednesday. "I'm a white, middle-class guy from London. I'm as shocked as you may be," he told Entertainment Tonight before defending his part in the series. Jackson "was probably closer to my color than his original color."
Here's Jackson's interview with Oprah in full. He talks about the white actor controversy at about the 23:49 mark.
Elizabeth, Michael & Marlon will portray a rumored story about Jackson taking a cross-country road trip with Elizabeth Taylor and Marlon Brando in the days after 9/11 shut down all American air traffic. So far, Jackson's fans aren't laughing. 
h/t the Grio
Get the five stories that will challenge you to rethink the world by signing up for MicCheck Daily.