Coldplay's "Hymn for the Weekend" Video With Beyoncé Is as Colorful as It Is Controversial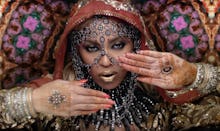 YouTube
Rock giants Coldplay sparked a debate on Friday when the British band released the official video for "Hymn for the Weekend," an Eastern-infused cut with tinkering bells, swirling vocals and crescendos that also features powerhouse American artist Beyoncé. The video stars the band's frontman, Chris Martin, and the Coldplay crew galavanting around Mumbai, India, and reveling in a colorful and ancient Hindu festival called Holi, which is also known as the festival of love.
Yet some viewers on Friday had few words of love for Coldplay's latest release, many of whom accused the band of cultural appropriation and insensitivity. 
In the video, Martin tours Mumbai by car, during which time the footage includes several cutaways of Mumbai's hectic roadways and quick frames of street performers in action. Beyoncé makes her debut early on in one such cutaway, when a young girl looks through a makeshift street theatre and sees the artist costumed in a flower crown and a reimagining of a traditional Indian dress.
Read more:
At one point, Martin and band members bring their instruments to one of the city's squares, where children dance as they play and a voluminous crowd gathers, hanging out the windows of their homes, to watch the band play. During another scene, Martin sits in a darkened cinema to watch a costumed, hennaed Beyoncé dance and sing on the big screen. 
Reacting to the video on Twitter, some users were quick to argue that Coldplay's latest release seemed offensive and accused the group of trying to profit off a culture not their own.
What's the problem? To some, the video for "Hymn for the Weekend" is troubling for a number of reasons, not least of which the way it appears to fetishize Indian culture. For the sake of aesthetic, the video's creators attempt to cram the maximum amount of glitz and glory that can be contained in the nearly 4 1/2 minutes' time. Yet the problem for some is not what Coldplay's latest video shows, it's what goes unseen.
There is nothing glamorous about the rate of poverty in parts of India. According to data from the Poverty and Equity databank, the World Bank reported that by 2010, the number of people living in poverty in India was on the order of hundreds of millions. According to that data, India's population in 2013 totaled 1,279.5 million, and in 2011, the poverty ratio as a portion of the country's total population clocked in at 21.3% — to quantify that, it means living on less than $3.10 a day, or $1.90 a day in extreme cases. 
Therefore the trouble with the visuals for "Hymn for the Weekend," according to some, is that the video takes what it wants of Indian culture and leaves the rest.
Beyond the question of poverty in India, at times watching the video, viewers are supremely attuned to feelings of voyeurism. We see Martin experience the richness of Mumbai, but given India's socioeconomic stratosphere, and as a foreigner, some might call glamorizing a trip to Mumbai poverty tourism, which some people say is innately problematic.  
Regardless, and perhaps as a side note, it's possible Beyoncé never set foot in India for the making of this video, seeing as she only appears to perform in front of a green screen. 
Opposing sides: A very similar dialogue surfaced in the wake of Taylor Swift's music video release for "Wildest Dreams," which Swift set during a time when the continent of Africa was under colonial rule. Many criticized Swift's setting, and the fact that the video didn't depict a single black actor or actress. Yet that video was arguably more offensive than what Coldplay and Beyoncé have released.
In fact, many have argued the opposite, and praised the video for its focus on the more beautiful details of India. And it's true that the video makes an earnest attempt at displaying the best and most beloved of Indian culture — as evidenced by a cameo from Indian actress Sonam Kapoor. "A story to tell my grandkids!" Kapoor wrote in a tweet on Friday. "I was in a Coldplay video! Woo hoo!"
"I don't care what anybody says," wrote one user on Reddit in a thread dedicated to the video's release. "This song is unreal and it's going to be an absolute banger live."
"As an Indian, I love the video," wrote another Reddit user commenting on the thread. "It's got a lot of beautiful stuff, and looks amazing in 1080p. It's definitely one of their better videos, minus Beyoncé's outfits (although others might like it)."
Those supporters were not alone.
Clearly, the video for "Hymn for the Weekend" is polarizing. Perhaps it's most accurate to leave it with this: It's complicated.
"Hymn for the Weekend" belongs to Coldplay's most recent release, A Head Full of Dreams, which follows 2014's Ghost Stories. U.K. label Parlophone Records released the LP, which is the four-piece's seventh studio album, on Dec. 4. 
"Revitalized, they've made an album that's bursting with energy, color and big, life-affirming moments such as the deliciously ebullient first single, 'Adventure of a Lifetime,' and the rocket-powered 'Hymn for the Weekend,'" read a press release from the band. "Coldplay have never enjoyed making a record more than this one. Nor have they been happier with the results."
Love them or leave them, Coldplay is gearing up for a widespread world tour and will be performing alongside Beyoncé at the 2016 Super Bowl.
A Head Full of Dreams track list:
1. "A Head Full of Dreams"
2. "Birds"
3. "Hymn for the Weekend"
4. "Everglow"
5. "Adventure of a Lifetime"
6. "Fun"
7. "Kaleidoscope"
8. "Army of One"
9. "Amazing Day"
10. "Colour Spectrum"
11. "Up&Up"
12. "X Marks the Spot" (Hidden track)